491 page manual by Samsung provides in-depth technical instructions for the Officeserv 7200 including introductions for programming, and the programming procedures. It offers programing levels, trunk level programming, timer options, group/block/zone programming and system tables. This is a complete guide for the 7200 IP-PBX for technical admin.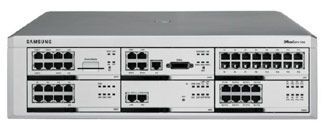 Samsung's OfficeServ 7200 offers the world of convergence with voice and data and wired and wireless communications. It can handle up to a maximum of 120 stations (phones) and has capabilities to use an array of devices, digital telephones, local IP phones with QoS, and wireless handheld phones. This very popular PBX system has been installed in many companies worldwide and offers flexibility and dependability.
For refurbished renewed telephones from a trusted vendor; Samsung iDCS 18D Samsung iDCS 28 Samsung iDCS 8D
The Samsung OfficeServ 7200 Programming Manual you came for is here for download.
Download Samsung OfficeServ 7200 Programming Manual.pdf
OfficeServ_7200_Programming.pdf
About pbxmechanic.com:
As an online resource we offer a variety of legacy and newer PBX telephone system manuals for download, including the Samsung OfficeServ and DCS series guides. Additionally you will find information on other telephone systems, VoIP systems, including hosted or cloud based VoIP and other telecom related information. You will also find step by step instructions on how to reset the date and time on many different manufacturers of business phones.
Use our PBX business telephone manuals to guide you through your phone settings and business PBX system installation and configurations. They will help you accomplish telephone settings and making programming changes to your phones. Some of these phone manuals are becoming increasingly hard to find; so being an online resource; we keep a depository of phone system guides and manuals for you to easily download in PDF. Additionally, you will find telephone system programming software for some PBX systems and also some great prices on many reconditioned telephone handsets at very reasonable prices through trusted reliable suppliers.
NOTE: PbxMechanic.com is a participant in the Amazon Services LLC Associates Program, an affiliate advertising program designed to provide a means for sites to earn advertising fees by advertising and linking to products on Amazon.com. Amazon and the Amazon logo are trademarks of Amazon.com, Inc, or its affiliates.