84 page manual by Allworx includes how to install the Allworx communication center software..logging on...creating and updating telephone handsets...handset features, managing and administering the Allworx 10x phone system...plus more.
Allworx, based in Rochester, NY started building their VoIP communication systems back in 2003 and since then has captured customers that range from professional services to school districts. Their IP-PBX systems start with the 6x and go through the 10x to the 24x and greater. The 6x system now can handle up to 30 telephones, so Allworx has built-in expansion capabilities for growing companies. Typical telephone handsets include the smaller 12 button model, the 9212 and the larger 24 button model, the 9224.
The Allworx 10x Users Guide you came for is here to download in pdf.
Download the Allworx 10 Users Guide.pdf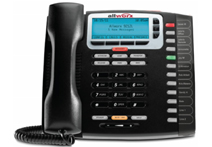 Here you can find additional guides for Alworx PBX Systems and telephones.
---
NOTE: PbxMechanic.com is a participant in the Amazon Services LLC Associates Program, an affiliate advertising program designed to provide a means for sites to earn advertising fees by advertising and linking to products on Amazon.com. Amazon and the Amazon logo are trademarks of Amazon.com, Inc. or its affiliates.
About pbxmechanic.com:
As an online resource we offer a variety of legacy and newer PBX telephone system manuals, including many of the Allworx systems. Additionally you will find information on telephone systems, VoIP systems, including hosted or cloud based VoIP and other telecom related information. You will also find step by step instructions on how to reset the date and time on many different manufacturers of business phones.
Use our PBX business telephone manuals to guide you through your phone settings and business PBX system configurations. They will help you accomplish installations, configuration changes, telephone settings and making programming changes to your phones. Some of these phone manuals are becoming increasingly hard to find; so being an online resource; we keep a depository of phone system guides and manuals for easy download in PDF. Additionally, you will find telephone system programming software for some PBX systems and some great prices on many telephone handsets and other telecom equipment.