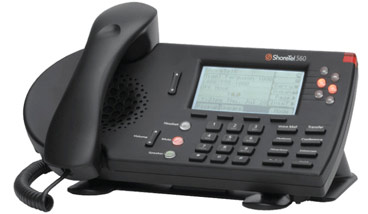 48 pages...Getting Started, Logging In, Managing Calls - Basic Features, Audio Controls...Voice Mail, Options, Directory, managing Calls - Advanced Features, Call manager Software, Web Access, Troubleshooting...etc. by Shoretel.
ShoreTel was a formaly publicly traded company headquarter in Sunnyvale, California that was acquired by Mitel. Popular desk phones found in many installations include the Shorephone 230, 530 and 560 models. The ShoreTel 560g IP Phone stopped being manufactured by ShoreTel back in September 2015.
Mitel's acquisition of ShoreTel was completed in 2017. ShoreTel technology is the core of the Mitel Connect platform, which has been rebranded as Mitel MiVoice Connect. Mitel has announced the end of life of the ShoreTel 14.2 software and all earlier software releases at the end of 2020. Starting in 2021 the only software patches will be for the MiVoice Connect platform.
The Shoretel 530, 560 and 560g User Guide is here for download.
Download Shoretel 530-560-560g Phone User Guide.pdf
Shoretel_530-560_phone_userguide.pdf
About pbxmechanic.com:
As an online resource we offer a variety of legacy and newer PBX telephone system manuals for download, including the some of Shoretels' Shorephone guides and Shoregear switch manuals. Additionally you will find information on other telephone systems, VoIP systems, including hosted or cloud based VoIP and other telecom related information. You will also find step by step instructions on how to reset the date and time on many different manufacturers of business phones.
Use our PBX business telephone manuals to guide you through your phone settings and business PBX system installation and configurations. They will help you accomplish telephone settings and making programming changes to your phones. Some of these phone manuals are becoming increasingly hard to find; so being an online resource; we keep a depository of phone system guides and manuals for you to easily download in PDF. Additionally, you will find telephone system programming software for some PBX systems and also some great prices on many reconditioned telephone handsets at very reasonable prices through trusted reliable suppliers.
Featured ShoreTel IP Phones
NOTE: PbxMechanic.com is a participant in the Amazon Services LLC Associates Program, an affiliate advertising program designed to provide a means for sites to earn advertising fees by advertising and linking to products on Amazon.com. Amazon and the Amazon logo are trademarks of Amazon.com, Inc, or its affiliates.