SIP trunks are frequently the best phone connection for a PBX.
What are SIP trunks and why are they favored?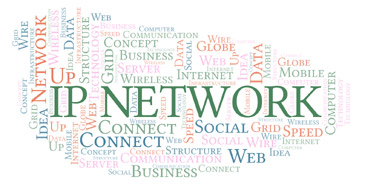 SIP trunks are virtual connections delivering voice and other unified communications over the Internet. Using SIP trunks, SIP (Session Initiation Protocol) providers can connect a SIP trunk to an on-premise PBX allowing local, long distance and International calls over the Internet.
When employing SIP trunks, a SIP provider connects one or more channels to your PBX allowing you to establish one call at a time per channel.
Each SIP trunk can support a number of SIP channels, frequently referred to as sessions or lines. Each channel (line) provides the capability to maintain one incoming or outgoing call. Consequently, frequently the first question proposed is how many SIP trunks do I need. Top Rated SIP trunk service- Nextiva The answer is one. You merely select the appropriate number of channels. Unless, that is, you prefer multiple providers (We explain some benefits of using multiple providers below), then one trunk per SIP provider.
Configuring your PBX with a SIP trunk provides low-cost, local, long distance and International calls using VoIP. SIP trunking eliminates the need for traditional phone connections and saves companies an average of 70% on their monthly phone bills.1
SIP (Session Initiation Protocol), is the primary protocol employed by the majority of businesses using VoIP to send voice and video communications across the internet.
SIP trunks are virtual phone connections that link a business IP-PBX to the PSTN through a provider. These virtual phone lines allow you to place and receive phone calls anywhere in the world using a telephone number, whether employing VoIP (Voice over Internet Protocol) or the PSTN (Public Switched Telephone Network) or a combination of both.
The SIP provider furnishes the virtual phone lines and then connects and establishes each voice phone call. The line can connect to the PTSN or remain completely over the Internet to a VoIP device. Many users who generate considerable calls choose to pay based on their call volume or what's referred to as a metered plan.
SIP trunks remain the number one way to provide low-cost VoIP phone services to an existing IP-PBX.
SIP trunks remain considerably lower in cost than traditional types of phone services. Businesses regularly reduce phone calling costs by utilizing low cost "unlimited" plans or by employing "pay by the minute plans" using low bulk rate minutes. Some SIP trunk providers offer particularly low rates to specific regions or countries.
Businesses that generate a considerable number of International calls have come to recognize the advantages of employing a number of providers. The IP-PBX is configured using outbound rules to select the lowest cost provider. By employing numerous providers, companies can easily setup a very cost-effective redundant call center utilizing an on-premise IP-PBX.
Call centers can incorporate multiple SIP Providers to maximize cost savings and Redundancy
SIP trunk services are significantly less expensive than traditional business telephone lines. Sometimes 60% to 75% lower.
The number of SIP channels required by a business frequently depends on its business model and the amount of call activity they undertake. Selecting providers is determined by the provider's strengths, like reliability and their particular call rates. For example, one provider may retain low priced virtual routes for calls to Ghana, while another may possess the lowest call rates to Brazil. 8x8 has been recognized for exceptionally favorable rates for International calls and has been favored by many call centers.
---
The term "trunk" goes back to the early telephone days. When used today with SIP it doesn't apply to a physical collection of wires; rather, the trunk represents a combination of "virtual" lines.
By employing multiple SIP providers, call centers often achieve distinct cost saving advantages.
Several niche SIP providers regularly maintain specialized reduced cost call rates, which makes them an attractive choice for that particular country or locale. It's accurate that one SIP trunk is capable of an unlimited number of channels. However, incorporating several SIP trunks, each from a different niche provider enables businesses to maximize benefits by configuring lowest cost call rules. Plus, using multiple providers facilitates redundancy in case a provider temporarily experiences problems.
Using SIP trunks with your IP-PBX
Establishing a SIP trunk connection on an IP-PBX is straightforward. Providers routinely include online instructions and offer guidance.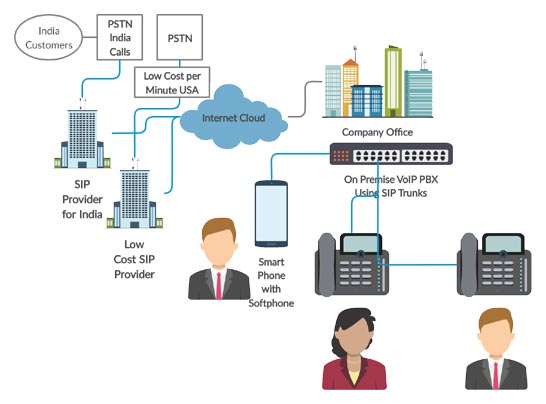 Some PBXs and most IP-PBXs include the ability to add SIP trunk connections as the primary or a secondary phone service. If your PBX system was constructed within the last ten years, it is likely at present SIP enabled. By including one or more channels from a SIP provider, an in-house PBX transforms into a VoIP phone system.
Typically, a small office with three people would require one "line" per person, if all three were on the phone at the same time. As office size increases the ratio of lines per person would likewise decrease to approximately sixty percent. Call centers and high call volume businesses would naturally require a high ratio of trunks or active virtual phone lines to working employees. This ensures every active agent has a line available at all times, maximizing call performance.
Pros of Using SIP trunks with a PBX:
Lower call costs: Most SIP services are substantially cheaper than traditional TDM circuits. You can select favorable SIP providers for low cost bulk rate inbound and outbound minutes by region or country.
Upgrade Your PBX: Sip trunks empower your on-premise PBX to utilize VoIP over an Internet connection for communication.
Low cost unlimited plans: Select a SIP provider with one low monthly cost for an unlimited number of minutes. (Many of these plans include the lower 48 US states and portions of Canada.)
Scalability: Increasing or adding trunks and/or the number of channels (lines) is quick and easy.
Flexibility: SIP trunks remain more flexible than a PRI due to their ability to handle an unlimited number of concurrent calls.
Multiple Carriers: Several SIP trunks can be configured for using a number of SIP providers within one IP-PBX.
Conference bridge: Move your audio conferencing service from a third-party provider to a SIP trunking service and eliminate any long distance calling charges into the conferencing bridge.
Disaster Recovery: When using SIP trunks calls can be rerouted instantly. Failover options can be devised in the event of a provider being temporarily offline.
Shared Resources: SIP trunks utilize the businesses' Internet connection, which dynamically allocates bandwidth to active voice calls; otherwise, it's used for other apps.
Less Maintenance: There is no need for PSTN or PRI hardware, copper phone lines or circuit boxes.
---
The Greatest Flexibility and Control for Call Centers
SIP trunks offer the most flexibility of any phone service. The precise nature of SIP allows for multiple trunks from numerous providers to be added or subtracted instantaneously. This instant flexibility provides concise control by scaling trunks from various SIP providers, as needed, selecting the most cost-effective and advantageous companies.
Benefits of SIP trunks include:
Scalability
Flexibility
Lower Cost Calling
DR - Instantly Redirect Calls
Connect Multiple Locations
SIP vs. VoIP
Voice over Internet Protocol refers to the protocols that enable voice-based phone calls to be established over the Internet rather than through the PSTN via a local telephone provider.
SIP and VoIP are not exactly interchangeable, although many times they are used jointly. VoIP (Voice over Internet Protocol) represents a broad term covering phone calls placed over the Internet. Included in VoIP is SIP (Session Initiation Protocol), only one of the specific protocols that enable VoIP.
Bandwidth Requirements
For a small office, a reasonable rule of thumb is about 90 Kbps for each active call for both download and upload. That's using a high quality uncompressed G.711 codec. Employing G.729 compression to reduce bandwidth voice would utilize about 32 Kbps; however, G711 remains the most utilized high quality narrowband codec. Another codec, the wideband G.722, regularly ends up producing voice quality as good as G.711 and occasionally exceeds it with the finest voice quality overall. Mean Opinion Score (MOS) ratings; a common assessment of voice clarity typically determines G.711 at 4.4 and G.722 at 4.5, so not really a sizable difference. When deciding which codec is best for your situation, it's often advisable to discuss your particular needs and Internet capabilities with the provider. Frequently upload bandwidth is less than download bandwidth; therefore, it's prudent to calculate the number of simultaneous calls based upon it.
Conclusion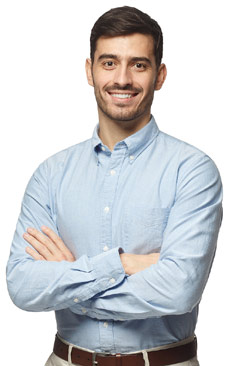 The choice between a cloud-based business phone service (aka hosted VoIP) and an on-premise IP-PBX using SIP trunks is often guided by the size of the company and number of calls. Typically, small companies or offices with up to about 20 employees might appreciate how easily managed hosted VoIP solutions have become, especially when employing at-home or remote workers. However, as the number of employees and the need for SIP trunks (lines) increase, an on-premise IP-PBX frequently delivers advantages in cost efficiencies with added flexibility and control.
Companies using SIP trunks can employ multiple SIP service providers choosing routes based on specific rates, time of day and country. Additionally, by maintaining complete control of the IP-PBX and using preferred codecs plus SD-WAN software, a company can increase the number of simultaneous calls using less bandwidth. This flexibility is frequently consequential.
One consideration when installing an on-premise VoIP PBX would be employing personnel capable of administering the appliance. Most SIP providers do offer easy setup instructions and assistance. And they frequently provide phone support for configuration or troubleshooting technical issues.
Office to Office Free Calling
Incorporating a peer-to-peer SIP trunk between multiple offices provides free Peer-to-Peer calls. Companies regularly set up extension dialing between offices, regardless of where they are physically located. Connecting multiple sales offices worldwide can save you thousands of dollars.
If you currently have your own on-premise PBX phone system, then it likely possesses SIP trunk capabilities. There is no better way to turn your phone system into a VoIP phone system than by incorporating SIP trunks. Setting up a SIP trunk connection remains a worthwhile endeavor. By opening up a lower cost phone service, you can significantly reduce your phone call expenses. And even if your PBX does not have the ability to connect via SIP, you can still use a SIP trunk by employing an Analog Telephone Adapter (ATA) or a SIP-ISDN gateway.
It's genuinely straightforward to transition your legacy PBX system into a powerful cloud system. Talk with a Nextiva Expert
Growth of SIP Trunking Forecast
The global SIP trunk services market size is expected to grow from USD $7.63 billion in 2018 to USD $12.70 billion by 2023, at a Compound Annual Growth Rate (CAGR) of 10.7% during the forecast period.2
Global SIP trunk services market size will continue growing, especially now due to the ongoing changes in work environments.
SIP trunks provide the mechanism for companies, especially multi-national enterprise-level corporations, to eliminate obstacles between people engaging in different communication modes globally through media and various devices.
---
This article was originally published under "What is a SIP trunk?". It was completely rewritten, updated and published on January 18, 2022.
---
References and Resources
1Transparancy Market Research- SIP Trunking Services Market
2MarketWatch- SIP Trunking Market Insights (This article is no longer available.)
Sip Trunking Basics- siptrunk