Grasshopper Phone System- Best Virtual Phone Service to Use with your Mobile Phone in 2022
Grasshopper app, a virtual phone system, remains a "top choice" in 2022 for small, growing businesses, mobile entrepreneurs and real-estate professionals, to name just a few.
Grasshopper phone remains our number one choice for an easy-to-setup virtual phone system with lots of options for entrepreneurs to present a professional image.
It provides micro-businesses and entrepreneurs with a uniquely designed communications system including a business phone number without the need for any new hardware or even a phone. That is because it is designed to be used with your existing phone service, either a smartphone or an existing desk phone.
Grasshopper virtual phone system is designed to enhance your phone service, not replace it. It incorporates professional business features that are convenient and easy to use.
Grasshopper's cloud system offers Android and iOS apps, as well as a desktop computer app, allowing a user to receive calls on their business number anywhere. Designed to never miss a call, Grasshopper indicates when an incoming call is business and then by using their easy-to-employ tools you can treat those calls uniquely.
The Grasshopper Virtual Phone system makes it easy to take your business to the next level of communication. Using instant response, you can automatically respond to new business callers.
Business callers can receive a custom professional greeting and go to an attendant, which then directs them to the exact department or person. It allows multiple incoming calls at the same time by sending them to another phone or employee, so your customers never have to experience another busy signal. With "instant response" busy professionals can rest assured they won't miss a call from a new client. Grasshopper can automatically send an SMS message letting them know their call is important when you are busy. And the new caller can even respond back with their call-back details.
Features That Make Grasshopper Stand Out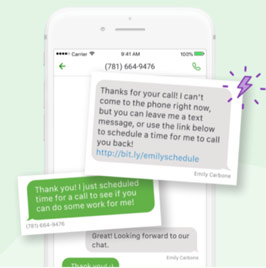 Incoming Call Management: Allows you to easily customize how and when you receive business calls. Set business hours and away greetings for other times. You can set up individual extensions to handle calls uniquely.
Business Texting: Send and receive unlimited texts from your business number.
Web-based Voicemail: Voicemail recordings arrive as MP3 attachments in your inbox. Every time you receive a message, transcription automatically reconstructs voicemails to text, so you can then read them on your computer, iPhone, or Android device.
Virtual Phone Extensions: Using extensions allows automatic routing of calls to information or a department or an employee.
Voice Studio: Grasshopper makes it easy to record, upload or have professional recordings made. (An extra fee is required if you choose Grasshopper to record using a professional voice talent.)
Instant Response: When you miss a call from a new client, Grasshopper can automatically send an SMS message letting them know you're unavailable.
Smart Features Designed for Business Flexibility
Great for real-estate professionals, food trucks, and other highly mobile businesses. Grasshopper's virtual phone system is remarkably easy to set up and will make a small entrepreneur look and sound more professional.
Adding a "big company" feel and a level of sophistication will reflect positively on customers and allow easy management as business grows.
Grasshopper's phone service platform incorporates extensive cloud-based call forwarding options and inbound faxing. Grasshopper business calls will always be able to be handled exactly as needed. Presenting a professional image will help establish an elevated level of professionalism and build a solid business brand. Your existing smartphone will become virtually like two phones in one. The business number is its own virtual inbound number. However, your existing regular personnel phone number remains for friends and family and anyone else that you decide.
Grasshopper Phone Pricing
Grasshopper's 3 primary plans, Solo, Partner and Small Business each include the same features, but vary according to the number of virtual phone numbers and the number of extensions. They are priced at $26.00, $44.00 and $80.00 monthly (when paid annually). Additional phone numbers can be added for $10/mo. each.
SOLO- 1 Phone Number, 3 Extensions
PARTNER- 3 Phone Numbers, 6 Extensions
SMALL BUSINESS- 5 Phone Numbers, Unlimited Extensions
SPECIAL: Save $75 off an annual or $15 off a monthly Grasshopper plan.
Grasshopper Phone Review Conclusion
We really like the cloud-based apps, tools and ease of setup with Grasshopper. In a way, it's ideal for so many very small businesses because you're in fact not changing your phone system, but rather adding a virtual phone service. It's built to work with an existing phone service, either your smart phone service or perhaps another phone, something you're already using. The service really takes what you presently utilize and expands it to a totally new next level. Grasshopper phone rides on and primarily uses your current service provider's cellular network for incoming and outgoing calls. Grasshopper does, however, offer both WiFi and VoIP Calling options, but they are unset by default.
The Solo Plan is ideal for the entrepreneur. The Partner Plan is designed for the growing business with 1-3 employees. Small Business affords unlimited extensions and outstanding flexibility; as a project ramps up team members anywhere can be added.
Use Grasshopper's mobile app for business calls and texts. Your personal calls and texts stay totally separate. The app manages both your personal and virtual business phone numbers on one phone. And it's very intuitive and easy to use. Their service regardless of which plan is well worth the price. Separating business calls from personal calls enhances a small entrepreneur's business.
Grasshopper Phone User Reviews
Grasshopper phone has been confirmed with exceptionally strong positive reviews from their customers. Mentioned repeatedly are features, best App, great support, easy to use, competitively priced, great tools that are easy to implement. "I change the forwarding for at least one of my extensions several times a day. This process is easy and everything works flawlessly..." getapp: 4.5 out of 5 with 314 reviews1. 94% would recommend this app.
Pros of Grasshopper Virtual Phone System
Carefully designed app that's very easy to set up and manage.
Extensive array of call forwarding options for incoming calls. Time-based conditions; decide when and how calls will be handled.
You get a professional business phone without the costly hardware.
All of Grasshopper's plans include unlimited minutes. Your app usage is restricted only by your carrier's data plan.
With instant response, you can immediately respond to new customers even when you're unavailable or engaged. This feature eliminates the risk of losing prospects to competitors by responding instantly.
Able to choose a vanity number.
You only need one phone for both personal and business, not two phones.
Grasshopper makes it easy to go completely mobile with their mobile app. Listen to voicemails, view faxes, and sign PDF and fax attachments with your fingers. Contacts will see your Grasshopper number on the Caller ID when you call using the app.
Business texting. Conveniently send and receive text messages on your business phone number rather than your personal number.
Voicemail transcription. Voicemails are transcribed to text, so you can read them on your computer, iPhone, or Android device.
Lots of invaluable advice, online tutorials and excellent support.
Cons
Must purchase yearly service for the best price.
No call recording.
Does not replace an existing phone service. Grasshopper's system is virtual and does not provide dial tone. It is designed to work with an existing phone service. Your everyday outgoing calls will have to remain with a local and/or long-distance provider.
Cannot transfer a call accepted on your computer to your smart phone. (NOTE: Grasshopper is currently working on this.)
Keeping with transparency; when visitors purchase services discussed on our site through onsite affiliate links or ads, we usually then earn affiliate commissions, which helps with our endeavors.
---