RECOMMENDED PROVIDERS
PLAN HIGHLIGHTS
RECOMMENDED FOR
MONTHLY FEES
DETAILS

Unlimited Calling, Faxing, Business Texts, Conf
Integrated Message, Video and Phone, easy to use
Trusted by over 400,000 businesses, well designed

Any sized business; Integrated phone,
video and team collaboration tools.
$19.99
Details

Award winning VoIP business with 50+ features
Collaborate from anywhere, video, desktop, & mobile
No extra fees, 30-day risk-free trial, no contracts

Remote teams, new or small
growing businesses, professional offices.
$19.95
Special: Buy 1 Get 1 Free
T21 IP Phone
Details

System integrates business communication apps
Collaborate from anywhere, video, desktop, & mobile
Customer Contact Management, Active engagement, AI

Customer contact center, remote
workers, multiple locations.
$18.95
Quote

<
Full-Featured Award-winning Business VoIP
Custom Voice Solutions with Managed Support
Unlimited calls, business texting, call recording, video conf., 24/7 support

Entrepreneur, start-ups, small teams to multi-national enterprise call center.
$9.00
New Starter Plan.
Quote
Three Unique Reasons Hosted VoIP is the Best Choice
Choosing a Cloud based PBX phone system is frequently the most cost-effective solution to update to multi-channel communications. Owners presently recognize the importance of maintaining advanced integrated systems so business needs can be performed with employees working from home. Along with many of the features and capabilities of a hosted VoIP service, a leading provider offers advantages by becoming a "technology partner." Their platforms are continuingly enhanced, tested and hardened to provide the most efficient systems in todays quickly evolving environment.
1) Technology is Improving Faster than Ever
With the current pace for development of innovative technology and advanced business apps, the traditional telecom manufacturer's business plan cannot keep up with incorporating and distributing needed changes to existing PBX systems. The industry solution has been to move to hosted VoIP and UCaaS services. Providers keep their software upgraded, develop new features (think AI), and deploy changes on their servers. Benefits to the small business customer are immediate. Knowing that the hosted VoIP provider is taking over future development costs pays off to customers by lowering their IT costs.
Consider these highly recognized advantages:
Lower Costs and Easy to Have Your Phone System Up and Making Calls Quickly
Scalability, Control & Remote Workers
One Provider with One Monthly Cost that includes Service & Support
You get advanced communication services today and tomorrow.
Companies have come to realize that business costs associated with old technology can quickly mount from inefficiencies and lost customer satisfaction. And the remedy of purchasing and installing new IP-PBX servers or upgrading those servers to keep current can be both time consuming and costly.
A good hosted VoIP provider will:
Maintain your systems to run efficiently and keep them updated.
Spend resources offering more advanced features and integration with popular industry business apps. Development and integration of new apps to include in their service.
2) Customers Expect More Contact Choices than Just Having to Call
No customer wants to be on their phone endlessly waiting to handle an issue only to be transferred. Sitting in a queue waiting for customer service can quickly aggravate even patient people, that's why increasingly you'll encounter the call back option with many companies. Formerly this business VoIP feature was considered a relatively new "must have", but now it's no longer new and every caller expects to be given that choice. Other options people currently expect is chat and texting.
Customer contact is now much more than just calls. Phone systems need to more intuitive and streamline service.
If your customer service agents lack the proper tools when they need them, customers lose. Integration with business apps is critical now and in the future.
Cloud PBX providers realize integrated Unified Communications comprises the service of the future.
Companies need to offer an omni-channel solution to customers who can select their own preferred method of communicating. A platform that includes an intelligent interactive voice response (IVR) and a choice of voice, chat, social media, SMS, or email improves customer satisfaction and contact center efficiencies. Having to switch from one tool to another or one screen to another is very inefficient. Total integration is a requirement.
A good hosted VoIP provider will:
Provide one application that integrates phone, chat and video.
Accommodate total integration with popular chat and business CRM apps.
Offer collaborative tools that allow teams to share easy to access information.
The best VoIP cloud providers offer an app integrated with video, message and phone.
3) Everyone Now Uses a Smart Phone. It must Integrate with Business Apps.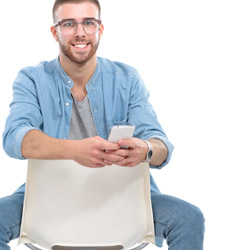 Smart phones made "the phone" just another app. Although the phone number is tied to a physical SIM card, phone calls don't have to use the "phone app", but can make calls using WhatsApp, Facebook Messenger, Slack, Snapchat, Skype or a dozen of other call apps. Smartphone use caused an expectation that everything would instantly integrate. Mobility has reinforced the need for seamless integration.
Efficiencies, an ease of communication and productivity are at the core of every good VoIP communications system. Connecting up with mobile employees and their smart phones requires a carefully designed cloud based phone system.
---
Top Phone System Brands Best Cloud PBX Companies
RingCentral Review Cloud PBX vs Premise PBX Cost Comparison One Integrated app for Video, Message and Phone