MightyCall Small Business Virtual Cloud-based Phone System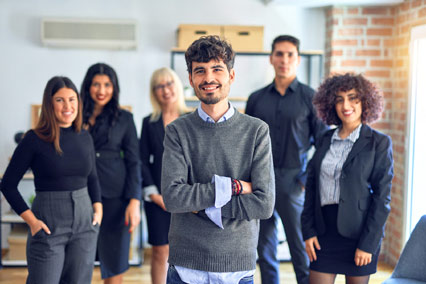 4/12/2021 MightyCall provides an affordable virtual cloud based phone service with built-in mini-CRM tools. Designed with small business in mind, MightyCall incorporates plenty of sophisticated features resulting in a platform which most growing businesses determine offers everything they require.
You'll get two, five or ten virtual numbers depending on the plan, that are then forwarded to one or more of a user's actual phone numbers. You can utilize them to forward to an existing smart phone, landline phone number and/or SIP numbers. And you can select either local or toll-free numbers.
What sets MightyCalll VoIP apart from their competitors is that each of their three plans allow for unlimited users. Many other virtual phone companies require a more expensive plan once you hit a maximum number of extensions; Mightycall's plans remain unlimited. That's likely to become a significant difference for a small, growing business needing to manage expenses. And further cost savings can be realized as MightyCall's VoIP platform doesn't require any additional hardware.
The popular Standard Plan ($49.99/mo.) includes unlimited minutes with features like an Auto-attendant, extension dialing, voicemail with text transcription, call forwarding, call transfer, Music on Hold, and call history. In addition, you get business texts, five phone numbers, call recording, and mini-CRM functionality. MightyCall's technology integrates comprehensive intuitive cloud based call forwarding settings, so business calls will always be handled exactly as required.
MightyCall Plans, Features and Monthly Pricing
Virtual phone numbers, unlike regular phone numbers are not tied to a specific telephone line or phone. They serve as business DID (Direct Inward Dialing) numbers. Calls to a virtual number are forwarded to one or more of a user's real phone numbers.
All three plans include unlimited extensions, voicemail, text messages, Available/DND Status, Auto-attendant, Business hours, Custom Greetings, Conference calls, Call Queues, Caller ID and CName, mobile app, web-phone and mini-CRM functionality. Prices include taxes and do not require a contract. There are no add-on fees and no per user charges.
Basic Plan- $29.99/mo. 1000 minutes, two numbers, 10 clients in the Contact Book.
Standard Plan- $49.99/mo. Unlimited minutes, five numbers, Unlimited clients in the Contact Book, Unlimited Call Recording, Voice to Text, Presence Indicator, Desk phones and Softphones.
Ultimate Plan- $99.99/mo. Unlimited minutes, ten numbers, API, High Priority Support, Voice Studio Recording, plus everything in the standard plan.
---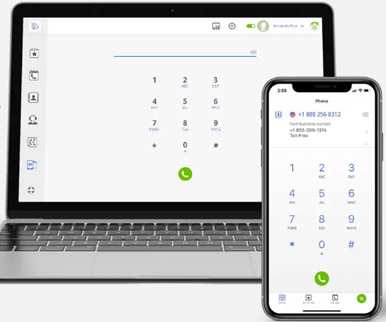 Computer and mobile User Interface
The User Interface maintains a balance between
clarity and ease of access. Built by users, for users,
MightyCall consistently receives five stars for their UI.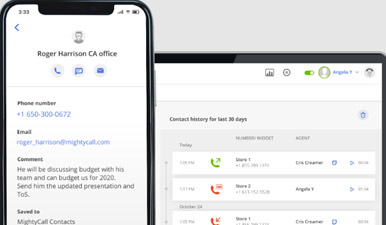 Business mini-CRM App
The mini-CRM app allows users to quickly maintain and synchronize contact lists with notes for each interaction without having
to pay for additional more expensive software.
Call Forwarding options
Call forwarding options can be set numerous ways,
like the time of the day, extension dialed or availability, etc.
MightyCall provides various call flow charts
that can be modified for maximum control of the system.
---
MightyCall Review- Conclusion
MightyCall provides a powerful effective virtual phone system for small businesses and comes highly recommended. With an impressive number of features and unlimited extensions, users soon discover MightyCall maintains one of most affordable business phone solutions offered. The standard plan achieves to be conceivably the most practical virtual phone system plan available with the addition of unlimited minutes and five numbers, along with call recording and email to text.
Users have repeatedly established the advantage that comes by adding extensions without raising costs. Both growing businesses and those that may need to temporarily scale up, regularly discover the benefit of this component. With an impressive reputation for service and reliability, MightyCall continues distinguishing itself with both outstanding customer reviews and industry awards for an innovative platform.
Pros
Each plan offers more numbers (toll free or local, including Canadian numbers) than the competition and unlimited extensions (users).
Call recording and mini-CRM capabilities.
One monthly price with no hidden fees. Free trial. No contract. Port an existing number.
Extensive platform for handing calls that's easy to setup and maintain.
Award winning User Interface and customer service. West coast USA based, started in 2013. Provides service for 6,000 small business owners and 25,000 active users.*
Cons
Best For:
New or small, growing businesses. Excellent choice for companies that may use remote temp contract workers to gear up projects. Great for entrepreneurs and business teams with remote users. Offers toll-free and local Canadian numbers.
Take a test drive and initiate a free trial: MightyCall
---
---
* As of January, 2021.
Keeping with transparency; when visitors purchase services discussed on our site through onsite affiliate links or ads, we usually then earn affiliate commissions which helps with our endeavors.