Best Business Phone System for Recording Calls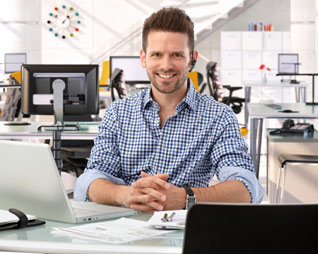 For companies that need to record calls, the best, most affordable and flexible option is choosing a cloud-based PBX phone service that includes automatic call recording. Not all providers do, and not all providers that offer call recording do so with each of their plans. Employing the right cloud VoIP provider, both reduces the need for equipment, reducing expenditures and simplifies the management of recordings.
Companies that record calls do so to ensure quality service, resolve disputes, thereby reducing risk, verify orders and regulatory or internal processes compliance.2
Call recording no longer represents an expensive add-on feature with many cloud-based VoIP services. However, it remains a steep option for most older legacy PBX systems. Many traditional earlier business phone systems require specifically compatible hardware to record calls and then manage those calls. Adding the equipment can be costly.
For business that determine a need to record their calls, it's essential to choose the right hosted VoIP service.
Best Cloud PBX Companies for Recording Phone Calls
---
1
Ooma Office Pro- Best for Small Professional Businesses that require Call Recording

Ooma Office Pro at $24.95/month/user comes with Call Recording. It includes two types of call recording, Persistent Call Recording which allows you to record all calls, or On-demand Recording. On-demand will only record when you activate it; however, it is remarkably straightforward, press *52 at any time to start recording and *53 to stop. Therefore, if you're a lawyer having a phone call with a client, you can easily record specific calls conveniently. Its use provides a superior way to easily maintain records and ensure all information is accurate. This is partly why Ooma Office Pro has become the leading choice for many professional businesses. Ooma Office
Pros
Call recordings are held in the Call Logs section of the Ooma Office dashboard, making them easy to manage and use.
Ooma Office Pro includes intuitive call recording that's simple, easy and powerful.
Cons
---
---
2
RingCentral- Best for Businesses that Want Affordable "On-demand" Call Recording and those that Record All Calls and require Multi-platform Communications

RingCentral MVP offers three plans. Core at $20.00/user/mo. paid annually or $30.00 monthly incorporates on-demand call recording. The Advanced plan $25.00/mo. paid annually includes Automatic/On-demand recording. On-demand represents a straightforward and effective solution that's great for a company that wants to record calls occasionally. Once enabled, users can choose which specific incoming or outgoing calls to record by pressing *9 to begin recording, then press *9 again to stop recording.
The Ultra plan at $35.00/mo. paid annually delivers a slew of features, including video conferencing for up to 200 people per meeting. Automatic recording can be enabled for one or multiple users or can be setup to record all inbound calls to specific departments. You can subsequently choose between a default or custom announcement for both inbound and outbound calls, which will ensure recordings are lawful and that callers have indicated their consent.
Pros
Can quickly select incoming and/or outgoing calls to record. It's one of the easiest on-demand call recording solutions and can be done from any device.
The Premium plan includes additional sophisticated features including video conferencing and unlimited Internet fax.
Cons
Users must pay annually for best pricing. Paying monthly increases costs significantly.
---
3
8x8- Best for Businesses that Want a Flexible App, Easy to Use Right from the Phone

8x8 offers a straightforward and flexible recording system where users can choose between Always Record or On-demand Recording at the extension level. Using the carefully designed Virtual Office Online dashboard is clean and simple. With one quick click, you're recording the call. After which you can review, download or delete call recordings. They additionally include an option to automatically announce to the other party that the call is being recorded, a very nice feature, especially for some. Call recordings retention is 30 days after which you'll want to delete or download recordings or pay for storage.
Pros
Virtual Office app is very handy and quick and easy to use.
Users can enable a built-in call recording announcement before recording begins.
Supervisors and other authorized users may record employee calls for training purposes, individuals can record their own calls.
Cons
No ability to encrypt call recordings.
---
4
Talkroute- Best Affordable very Small Business Service that offers Call Recording.
Talkroute offers Call Recording in two of their Virtual plans, Pro at $59/month (includes 3 phone numbers and 10 users) and Enterprise. Talkroute's Call Recording feature can automatically record and save your incoming and outgoing calls in a conveniently accessible place. Access all of your recordings forever with Unlimited Storage. You can access a recording from today or several years ago. Talkroute
Pros
One of the more affordable providers with plans that include call recording.
HIPAA Compliance
Cons
The Pro plan is designed for up to ten users. The next level down, the Plus plan, does not include Call Recording.
Top hosted VoIP Providers and Call Recording
8x8-
RingCentral-
Nextiva- The Enterprise plan at $32.95/mo. includes unlimited video conference recording & call recording.
VirtualPBX-
Ooma-
Grasshopper- Doesn't offer call recording.
MightyCall- MightyCall offers three plans, all of which include Call Recording.
Talkroute-
---
Final Notes & Conclusion
32% of companies not already recording calls responded that they expect to capture and archive voice call information within the next 2-5 years.1
Call recording no longer remains a costly feature and can promptly be adopted by even the smallest of companies. Currently, many employees are working from home, and this trend is likely to remain in the future. Phone calls and/or texting are routinely replacing face-to-face communication. Call recording for all businesses has now become increasingly indispensable. One survey from a broad range of industry professionals showed 69% use call recording to ensure quality service and assess agents.2
Ooma Office Pro receives outstanding reviews from their users and maintains a superior solution for most professional offices that use desk phones, like legal, engineering and architects. RingCentral performs effective multi-channel communication that integrates with a multitude of CRM applications and can scale to any size. 8x8, a well-established contact center VoIP provider, should represent a leading choice for companies that engage in significant International calling. Talkroute's virtual phone system prevails as a popular choice for micro-businesses that require call recording.
Many businesses that engage in financial transactions can lower their risk and liability by recording calls for accurate and irrefutable documentation. Recordings are time stamped and become excellent evidence for handling possible disputes. A recorded conversation eliminates ambiguity; which person might have said what and what they discussed. To a great degree, it acts to safeguard precise instructions and ensure proper protocol.
Not all states have the same laws governing recording calls3. To ensure recordings are lawful and that callers have indicated their consent, announcements should be played before automatic recording begins.
Some instances where call recording has improved business efficiencies are:
For retail establishments and supply houses, recordings can be implemented to assure that part orders are correct.
For use in identifying system breakdowns and failure of business processes.
For engineering and project management companies to record calls rather than taking notes while on the phone is a preferred and smarter arrangement.
Updated September 5, 2023.
Reference and Sources
1Voice Call Recording – Latest Market and Compliance Trends -Telemessage
2Why do Companies Record Customer Calls? Call Recording eBook-OrecX
3Laws on Recording Calls in all 50 States mwl-law
---
Disclosure: Keeping with transparency; when visitors who purchase products and/or services discussed on our site through onsite affiliate links or ads, we then may earn affiliate commissions. Some of the providers listed above have no affiliation. We qualify services, providers and equipment based on use, stability, features, user satisfaction and value regardless of any affiliation.
---