Need a Phone?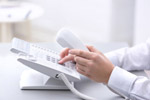 Replacement phones or adding an additional telephone to an existing business phone system or PBX is easier and less costly than just a few years ago.
Many of our manual pages offer business phone models from trusted resellers.
Which Phone System?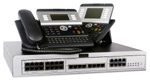 From an affordable replacement for an older key styled phone system to a high end IP PBX with ACD it's advisable to educate yourself on the fundamentals to help guide the decision to the best value. Start with these tutorials.
Cloud Based Phone.

With many excellent choices for a service provider for a hosted PBX, the most important decision factor comes down in understanding your own needs and the features that make the difference. Start with these tutorials: