Ooma Office Cloud-based Small Business VoIP Phone System
Ooma offers an outstanding affordable small business VoIP phone system that includes 50+ business features.
Whether your business retains five employees or fifty, Ooma has constructed a platform that's easy to setup even for those that lack any technical savvy. Offering three Office plans, each with unlimited calling in the US and Canada, Ooma's service provides a solution for a variety of business communication needs. Ooma Office incorporates a number of features, including a virtual assistant, extension dialing, and call forwarding options. At $19.95/mo. per user, Ooma Office Essentials remains one of the most affordable business VoIP phone services available. The Office Pro plan, at $24.95/mo. per user, adds video conferencing, call recording, voicemail transcription, texting and the desktop app. with softphone to make calls and access Ooma Meetings via video conferencing. The Pro Plus plan at $29.95 includes everything in the Pro Plan, plus Call Queuing, Salesforce Integration, Hot Desking and Find Me, Follow Me.
Ooma Office, like most other VoIP providers remains a hosted business VoIP service that's outstanding using IP desk phones to connect; however they are not required. The preferred solution for Office is implementing a number of recommended pre-provisioned IP desk phones which ensures you efficiently utilize the extensive power of the system features. With the Ooma Office Pro plan you can download their convenient desktop app and use your computer as your business phone. Do almost everything you would from a desktop phone, make calls, access Ooma meetings, and extension dial. All without needing a desk phone.
Ooma now offers one free IP phone rental per user when committing to a contract. Get Yealink T23 Restock phones for 1-year Office Pro or Ooma 2602 or 2603 phones for 3-year Office or Office Pro.**
They do; however, offer several "base station" hardware options that can handle connections to standard analog phones. This arrangement frequently limits the maximum potential of the system's features. In-Office and remote employees regularly find they do much better when connecting through one of Ooma's IP phones rather than to a base station and analog phone.
Ooma offers seventeen models of IP phones to choose from including an affordable model, the Ooma 2602, in both a standard version as well as a Wi-Fi version. Their higher end phones include a 12 line model, the Ooma 2670 and the Yealink T48U executive phone that incorporates a 7" touch screen.
---
Ooma Office Plans, Features and Monthly Pricing
Both Office plans include unlimited outbound calling minutes (USA and Canada), virtual receptionist, voicemail, call transfers, ring groups, mobile app, call park, MoH, extension dialing, user DID (Direct Dial Number), call forwarding options with time conditions, directory, call logs, conference bridge, virtual faxing and call blocking.
Ooma Essentials- $19.95*/mo. per user. 50+ Standard Features.
Ooma Office Pro- $24.95*/mo. per user. Video conferencing, Desktop app, Call Recording, Enhanced Call Blocking, Voicemail transcription, higher usage limits on some features, plus everything in the Office plan.
Ooma Office Pro Plus- $29.95*/mo. per user. Call Queuing, Salesforce Integration, Hot Desking, Find Me; Follow Me, plus everything in the Office Pro plan.
Mobile app, desk phone and Desktop app.
The mobile app allows users to answer calls
just like they're in the office. Ooma provides
a selection of desk phones models from entry
to an executive level. Work from anywhere
using the desktop app.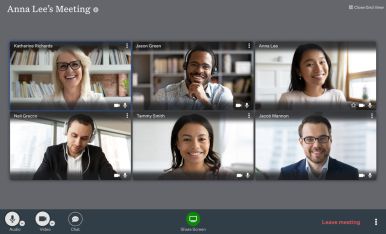 Videoconferencing
is powerfully
easy.
Use the app
or have anyone
join using Chrome. Ooma Meetings
allow participants
to share their screens
simultaneously, compare notes and
share information faster.
Ooma's Mobile app allows employees
to stay connected from anywhere.
Set up message groups to quickly
communicate with co-workers.
Make calls, check voicemails and click
to call from the Office Pro desktop app.
---
Ooma Office and Office Pro Reviews- Conclusion; Affordable and Effective Business VoIP
Ooma provides one of the most affordable options for a small office that needs an effective business phone system. With 50+ features, the Office plan at $19.95*/mo. per user should satisfy the communication requirements for a majority of business offices. The included mobile app allows employees to stay connected while out of the office. It's straightforward to setup a message group to communicate with multiple office employees eliminating the need for more cumbersome exchanges. And the one-time cost for desk phones can actually end up quite low as there is a wide selection of phones.
Business owner review: I love that Ooma Office has combined all of my most important communications tools in one place: office phone lines, conference bridge lines, fax lines and video meeting tools. And all at an affordable price.
If your business requires or wants video, then the Office Pro plan equips users with an excellent desktop app that incorporates meetings and calling. Either way, Ooma has proven to continue as a top choice for a robust, reliable business VoIP cloud PBX platform. For businesses which experience higher call demand during busy periods or those seeking a simple call center solution, the Pro Plus plan incorporates Call Queuing.
Ooma has been recognized by PC Magazine's Business Choice Award "Top-Rated Voice Over IP (VoIP) Services for 2023" for Best VoIP System ten years in a row. Ooma Office reviews remain exceptionally good from customers. g2: 4.5 out of 5 with 87 reviews2.

We enthusiastically recommend Ooma for businesses that presently use desk phones. For example, law offices with eight to twenty employees regularly consider Ooma Office to offer an effective affordable solution that they can have up and taking calls in minutes. By replacing an existing older phone system, businesses routinely realize a significant monthly calling cost-saving. Ooma offers several online tools that show you how much you can save. Get an exact Quote With a sufficient number of business features, Ooma's Office plans deliver professional offices a robust, reliable communication solution. Business owners regularly state the benefit of having one vendor rather than multiple subscriptions for phone, fax, and video services.
Pros
Two of Ooma's plans that are among the most affordable VoIP business phone solutions available.
Their office phone system is quick and easy to setup and use. Pre-provisioned phones just need to be plugged in to connect.
Ooma Office Pro plan incorporates a desktop app to use your computer as your business phone. Accordingly, no hardware required.
Ooma free phone offers** provide an outstanding opportunity. Get free phones for each user to use if you commit to a year.
Realize instant online meetings. Collaborate anytime, anywhere.
One monthly price1 per user with no extra per feature fees. 30-day risk-free trial. One free toll-free number.
Intuitive User Interface is easy for any user to navigate.
Well-designed, attractive desk phones that are both very affordable and highly reliable.
24/7 phone, email, and live chat support. Lots of helpful how-tos and tutorials.
Cons
Must use Ooma-provisioned phones, cannot bring your own IP phones.
Best For:
New or small, growing businesses. Excellent choice for law offices, financial planners, ad agencies, insurance or real-estate offices, advertising agencies and hospitality (Ooma offers a solution tailored for hotel and B&Bs). Highly recommended for non-profit organizations, churches, restaurants and, retail stores.
SPECIAL**: Phone BOGO; Free Ooma 2602 or 2603 IP Phone : Ooma Office Free Quote
---
---
* Applicable taxes and fees not included. ** Limited time only. 1Unlimited nationwide calls are free, but nominal taxes and fees are required. 2The number of reviews were as of 8/22/2023.
Keeping with transparency; when visitors purchase services discussed on our site through onsite affiliate links or ads, we usually then earn affiliate commissions which helps with our endeavors.