When choosing a cloud based phone service there are a number of different IP phones to choose from. The Polycom VVX 501 and the Yealink T46S both offer advanced features and attractive navigation. The Polycom VVX 250 offers a value conscious user an option to keep prices low without giving up necessary options. All three of our top three phone choices offer outstanding quality, are easy to install and configure, and will keep your budget where it needs to be.
RECOMMENDED PROVIDERS
PLAN HIGHLIGHTS
RECOMMENDED FOR
MONTHLY FEES
DETAILS

Unlimited Calling, Faxing, Business Texts, Conf
Integrated Message, Video and Phone, easy to use
Trusted by over 400,000 businesses, well designed

Any sized business; Integrated phone,
video and team collaboration tools.
$19.99
Details

Award winning VoIP business with 50+ features
Collaborate from anywhere, video, desktop, & mobile
No extra fees, 30-day risk-free trial, no contracts

Remote teams, new or small
growing businesses, professional offices.
$19.95
Special: Buy 1 Get 1 Free
T21 IP Phone
Details

System integrates business communication apps
Collaborate from anywhere, video, desktop, & mobile
Customer Contact Management, Active engagement, AI

Customer contact center, remote
workers, multiple locations.
$18.95
Quote

Full-Featured Award-winning Business VoIP
Custom Voice Solutions with Managed Support
Unlimited calls, business texting, call recording, video conf., 24/7 support

Entrepreneur, start-ups, small teams
to multi-national enterprise call center.
$9.00
New
Starter Plan
Quote
Polycom VVX 501
12 Line appearances
3.5" 320 x 240 color LCD touch screen
2 RJ45 10/100/1000 Ethernet ports
2 USB 2.0
Polycom VVX 501 Review
Polycom's VVX 501, a premium business media phone with a color 3.5" LCD screen is designed for UC management. With a touch screen interface, the 501 also serves as an application platform and supports the use of expansion modules to show which co-workers are on the phone. With integration with Microsoft Outlook calendar users can access their schedules while talking to a client.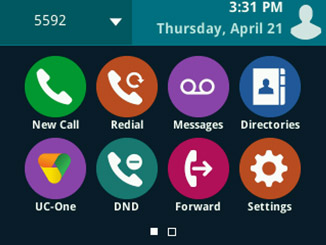 The intuitive menu design is built upon behavior common to mobile phones and navigation is easy and comfortable which reduces new users need for training. Deployment of these phones is easy and when matched with a top rated hosted VoIP provider, the phones will be up and employees will be back to work in no time.
Conclusion
Polycom VVX 501 is intuitive and users will like the navigation. The speakerphone delivers high quality voice without echo or distortion.
---
Polycom VVX 250
4 Lines
2.8" 320 x 240 color LCD screen
2 RJ45 Gigabit Ethernet ports
Built-in USB port
Polycom VVX 250 Review
The Polycom VVX 250 business IP phone has exceptional voice quality and will deliver years of reliable performance. Ergonomically attractive with a color screen users will find these phones offer the most widely used features offered, intuitively reducing the time invested learning how to navigate features and functions. While on the phone "Fence technology" keeps their business conversations free from extraneous noises,
echoes and distractions.
Conclusion
The Polycom VVX 250 Business IP phone is an outstanding value with most of the features you'd want. For those looking to keep down costs on a new hosted VoIP installation the VVX 250 is a top choice. With excellent voice quality and Fence technology to make conversations even better it is a great choice for a small office or a large company environment.
---
Yealink SIP‑T46S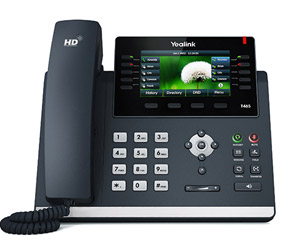 16 Lines
4.3" color LCD 480 x 272 High Resolution screen
Dual-port Gigabit Ethernet
Built-in USB port
Yealink SIP‑T46S Review
Yealink's T46S phone offers a faster, quick response interface. It incorporates Optima HD voice technology and the Opus wide-band codec for crystal clear voice quality. The speakerphone has been improved in the T46S and also incorporates "hearing aid compatible" (HAC), so that a person with hearing loss can hear more clearly.
Yealink's T46S is has a user interface optimized for a smart-phone user experience and the soft keys can easily be customized. Up to six expansion models can be attached, for as many as 240 additional buttons.
Conclusion
Yealink's T46S phone is well priced, well designed and offers a slew of features. Elegant and ergonomically efficient, users will find that this phone offers crystal clear communications and will be a great choice for their hosted VoIP deployment.
---
---
Final Notes
There are many superb choices when it comes to IP phones that are available on the direct market. Our choices of the three best IP phones to use with a cloud based PBX provider have all shown to be highly rated by users, have been tested for compatibility for most hosted VoIP companies*, and come form companies that have excelled in great phone products. *When deciding on the best phone for your phone system, it's best to routinely check with your provider to make sure the phone is compatible with their platform.
---
Related Articles
Find out which are best cloud PBX phone companies. These are the top rated hosted VoIP providers: Best Cloud PBX Companies
---
NOTE: PbxMechanic.com is a participant in the Amazon Services LLC Associates Program, an affiliate advertising program designed to provide a means for sites to earn advertising fees by advertising and linking to products on Amazon.com. Amazon and the Amazon logo are trademarks of Amazon.com, Inc. or its affiliates.