A good business phone system should convey a favorable impression to customers and be easy and intuitive to use, for both customers and employees. The best providers incorporate an integrated communications solution built with an intuitive well-designed interface and offer helpful customer service.
The best cloud PBX phone system is the one that is both intuitive and easy to use, offering an affordable solution matching your needs now and into the future.

RingCentral MVP (Message, Video, Phone) remains a leader in cloud UcaaS services and constantly receives awards for outstanding products.
Broken into four plans, Essentials, Standard, Premium and Ultimate, it's straightforward to acquire the right service for any particular business plan. The lowest priced Essentials (Message, Phone) offers an economical solution, when paid annually, for companies with up to 20 users. Moving up to the Standard plan adds significant features such as Multi-Level Attendant, Internet-Fax, and Video meetings. RingCentral service works with hundreds of apps, so integration with any existing business software is practically guaranteed. RingCentral offers an outstanding UCaaS platform and can provide service for any size organization. Choosing the right plan routinely delivers a package of features that can best be described as being what a company would want for their business communications system.
It's straightforward to obtain an exact price for the level of services you require. RingCentral MVP does not require any commitment: you can pay monthly and cancel at anytime; however, the difference between paying monthly and yearly is mind-boggling. Plan prices do vary by the number of users and depending on if paid monthly or annually upfront. 24/7 customer service is included in all plans. brochure RingCentral MVP Review
Base Pricing per month per user when paid annually*: Essentials $19.99* paid annually (Up to 20 uses.); $32.99 monthly, Standard $27.99*; $40.99 monthly, Premium $34.99*, Ultimate $49.99*
Strong multi-channel feature set with app integrations for medium to large companies. End-to-end encryption. 30-day free trial.
With over 400k customers RingCentral is the largest and fastest growing cloud business communications provider worldwide. Capterra: 4.2 out of 5 with 1064 reviews1.
---
Grasshopper, located in Boston, Massachusetts, provides a unique niche in the Virtual PBX service industry with a business phone system designed to be added to your existing smart phone. Since Grasshopper is a totally virtual phone system, no additional hardware is necessary. Actually, it is designed as an extensive call-forwarding system, but also now incorporates WiFi calling. A significant expanded feature. Their platform represents a leading choice for very small businesses and entrepreneurs that depend on mobility and those who don't want or need a desktop telephone. Offering Android and iOS apps allows a user to receive calls on their current cell phones from their business number anywhere. Not merely is it designed to never miss a call, Grasshopper indicates, when an incoming call is business. It's straightforward to employ their tools to handle those calls uniquely. For instance, a business call can receive a custom greeting and go to an attendant with options before being routed to extensions or a particular person.
Grasshopper offers three plans, Solo, Partner and Small Business, that can be paid for monthly or yearly. Each plan comes with the same features, but increases by the number of phone numbers and extensions. Solo offers one number and three extensions. Partner includes three phone numbers and six extensions. The Small Business plan includes five phone numbers and unlimited extensions.
Great for small teams or individual real-estate professionals, food trucks and other highly mobile businesses, Grasshopper's virtual phone system is remarkably easy to set up and will make entrepreneurs appear and sound more professional. In addition, Grasshopper provides numerous instruction guides, resources, and helpful tools designed to boost small businesses in aspects of successful business creation; from choosing branding colors to small business tax deductions.

Adding a "big company" feel and a level of sophistication will reflect positively on customers. Grasshopper is our "Top Choice" for mobile micro-businesses, entrepreneurs, and real-estate agents. To see why we recommend Grasshopper; see our Grasshopper Virtual Phone Review
Base Pricing monthly per account: Solo $28.00, Partner $46.00, Small Business $80.00, when paid annually.
Excellent for very small companies or business entrepreneurs who are mobile.
Serving over 350,000 entrepreneurs since 2003. Capterra: 4.4 out of 5 with 336 reviews1.
*Special save $75 off an annual or $15 off a monthly Grasshopper plan.: Grasshopper
---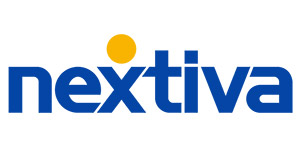 Nextiva constantly scores significantly high in reviews for all aspects of their service and receives accolades from numerous organizations for their innovative solutions. Recently they were chosen as the Best Small Business Phone System of 2021 by U.S. News & World Report's 360 Reviews team. They have four plans, Essential, Professional, Enterprise and Ultimate, each with an included standard feature set that then increases with each plan. For instance, to get Call Recording one would need to select the Enterprise plan. Additionally, each plan in designed as a communication platform, offering businesses "Collaboration Features" such as Video and "Productivity Features" that include call recording and analytics.
Nextiva's four plans makes available pricing that can beat many competitors. Each plan delivers a robust feature set designed individually. For example, one that's an easy, quick start plan is Essential or a plan for smaller teams is Professional, or for larger teams Enterprise. The Ultimate plan adds advanced features designed for sales and productivity management. The most competitive prices are obtained by paying annually.** For instance, the Essential plan remains a remarkable bargain of $18.95/mo./user when paid annually for 20 to 99 users. All plans include 24/7 service and tech support with 99.999% reliability. Based in Scottsdale, Arizona, Nextiva prides themselves in constructing a total communication platform with one workspace to make life as easy as possible for employees to be productive. For a small to large business seeking to manage both calls and customers Nextiva delivers an outstanding communications software platform and is one of our top picks.
---
*Specials are for a limited time and may end without notice. 1The number of reviews were as of 2/16/2023.

Ooma Office provides a highly reliable and affordable option for a small office requiring an effective business phone system where each desk has its own business phone. With 50+ features, including a virtual receptionist, the Office plan at $19.95/mo./user should satisfy the requirements for a majority of offices. It incorporates a mobile app that allows employees to stay connected while out of the office. Their system makes it straightforward to setup a message group which allows secure communication with multiple office employees eliminating the need for more cumbersome exchanges. And the one-time cost for desk phones can actually end up quite low as there is a wide selection of phones and Ooma periodically offers specials, like BOGO.
Ooma, located in California, offers two small business plans, Ooma Office and Ooma Office Pro. Ooma Office is a robust 50 feature phone system. Office Pro adds Video

Conferencing and Call Recording along with text messaging and Voicemail Transcription for $24.95/mo./user. The Office Pro plan equips users with an excellent desktop app that incorporates meetings and calling so your computer can act as your phone. With either plan, Ooma confirms their services remain a leading choice for a robust reliable business VoIP cloud PBX platform. A great solution for remote teams and at home employees. It has been recognized by PC Magazine's Business Choice Award for Best VoIP System eight years in a row. With exceptional pricing, no contracts and paying monthly, it's no wonder why Ooma business receives one of the highest customer satisfaction rates for any business phone service. Their service is highly recommended by us and has been elected the best cloud-based phone service for professional offices for 2023.
Base Pricing (no contracts paid monthly): Ooma Office $19.95/user, Ooma Office Pro $24.95/user
Highly reliable robust no contract cloud based phone system paid monthly. Great for professional offices, attorneys, financial planners, real-estate, insurance and accountants.
Exceptionally good reviews from customers. Capterra: 4.5 out of 5 with 165 reviews1.
SPECIAL*: Buy 1 Get 1 Free 2602 IP Phone: Ooma Office
---

VirtualPBX, winner of TMC's 2022 Internet Telephony Product of the Year Award, offers an array of essential features, even on its starter plan at $9/mo. Which is ideal for small businesses on a budget. They believe the features that matter most should be included in all of their business phone plans. And that says a lot about this company. They employ a trained support staff, along with an Onboarding Team, that provide free Customer Support 24 hours/day, 365 days/week for all customers.
Their four service plans are Starter, Flex, Pro and Premier, and all include unlimited calls within the US, Canada, and Mexico. The Flex plan adds Call Recording and Video Conferencing. Large teams and contact centers find the Pro, and Premier plans, featuring advanced call center features, along with Zapier & AWS Integrations, to be some of the most robust and affordable plans of their nature available. Based in California, VirtualPBX has been delivering premium communication solutions as a top VoIP provider for nearly 20 years.
Base Pricing monthly per user: Starter $9.00, Flex $18.00, Pro $24.00, Premier $34.00. Paying yearly reduces these rates.
Competitive flexible plans for companies of any size. 14 day risk-free trial.
Great for entrepreneurs, start-ups and small businesses or a multi-national enterprise call center. Capterra: 4.8 out of 5 with 23 reviews1.
Take a test drive with a 14-day free trial: VirtualPBX
---
GoToConnect, formally Jive constantly receives top reviews from their users. GoToConnect is an easily deployed, simple-to-use virtual phone system that incorporates video conferencing and messaging. The GoTo family of products were all about tools for a remote work force before work-at-home employees became extensive.
GoToConnect's pricing model is broken into three plans based on the number of users. As the number of users increase, the per seat price lowers. Paying annually further reduces the cost and can lower it by as much as 10%. Their three plans include Basic, Standard, and Premium. Basic features include phone, chat and video conferencing. The Premium plan is designed for contact centers with advanced call center features and metrics. Their most popular plan, Standard incorporates an extensive feature package. It's an outstanding plan that includes such advanced features as unlimited auto-attendants, Fax to Email, Voicemail to Email, Music on Hold, and Time-Based routing (plus others). GoToConnect systems are straightforward to setup with come with excellent help resources. GoToConnect represents a superior choice for companies who want a packed feature set at one monthly cost per employee. A great choice for industries such as legal, education, automotive and healthcare. International Call rates can be more costly than the competition. Offering 24/7 support, they deliver a great communications platform for most businesses. GoToConnect Review
Base Pricing per user for 2-10 users paid annually: Basic $24.00/mo., Standard $29.00/mo., Premium $43.00/mo.
Easy to deploy with video conferencing and messaging included. Calls, meetings and messages anywhere on any device. Excellent for a distributed contact center or small offices that want multi-channel communications.
High reliability with enterprise-grade security and privacy. Capterra: 4.5 out of 5 with 641 reviews1. 14-day free trail.
Try it for free: GoToConnect
---

8x8, located in San Jose, California, is a global Cloud Solution provider. Offering one system for all communications, like voice, video, collaboration or hosted call centers. 8x8 provides VoIP services to both small business and enterprise-sized organizations. Constantly rated in the industry as one of the best cloud solutions for call centers, 8x8 provides one of the most suitable plans for businesses that require International calling, including global call centers.
Their 8x8 eXperience Communications Platform includes the 8x8 Express, X2, X4, Team Communication plans, as well as the Contact Center plans X6, X7 and X8. Each successive plan is designed with a larger feature set and each plan comes with a built-in unlimited number of International calling minutes to a specific country group. They offer 24/7 customer support and an impressive online knowledge base. brochure
Base Pricing monthly per user: 8x8 Express 15.00 X2 $24.00, X4 $44.00, X6 $95.00, X7 $105.00, X8 $133.00
They offer exceptional International calling plans and great contact center solutions.
Great call center technology that allows agents to setup in minutes. 8x8 Contact Center- Capterra: 4.0 out of 5 with 251 reviews1.
---

MightyCall delivers a fully functioning, innovative virtual phone system with dozens of built-in features tailored to expand communications for small teams and micro-businesses. Their business plan for three users or more turns out to be excellent value and should be a leading choice for those looking to initiate a professional way to communicate with customers. It comes with 2 toll-free or local numbers and an array of features to comfortably setup how and when calls will be handled.
MightyCall's virtual phone service additionally incorporates an impressive mini-CRM function; a business contact book with communication history. By combining a small CRM app with all its other features, MightyCall has uniquely succeeded in establishing itself as an outstanding favorite among truly virtual phone services. Add to that; features include call recording and voicemail to text with VIP and Block List Call routing. That makes MightyCall a more likely choice to excite almost anyone searching for an affordable virtual business communications solution. brochure
Small Team- $15/mo./user- 2 users, 500 minutes, 100 texts. ($30/mo. includes two users.)
Business- $20/mo./user- 3 users minimum, Unlimited minutes, Unlimited texts, voice-to-text in the Contact Book, Unlimited Call Recording, Voice to Text, Presence Indicator, Desk phones and Softphones. Live support and High Priority Support, Voice Studio Recording and more.
Fixed Price Enterprise plan- $200.00 flat fee per month includes: Unlimited users, Unlimited minutes, and Unlimited texts. *$150 for the first 6 months- limited time offer.
Fully functioning virtual phone system with dozens of features to advance your business organization and communications.
A favorite for small micro-businesses, e-commerce, and small teams. Capterra: 3.8 out of 5 with 94 reviews1.
---
---
Which of these cloud Phone companies are the best for your company?
All of these cloud communication companies are rated in the topmost tier of US business phone providers. However, some choices remain distinctly more suitable than others for individual business models. Much of the actual choice depends on one's respective requirements, such as, if video, or call recording are essential, as an example. Or, for instance, if integration with customer relationship management tools is imperative, subsequently the proper provider becomes even more critical. A company's size additionally plays a factor in many cases of which VoIP provider is the more appropriate choice. We see the following choices as best in their respective categories.
Grasshopper is a superior choice for solo entrepreneurs and small micro-businesses and is unique in that it is designed to be added to an existing smart phone service. MightyCall provides SIP phone and desk phone support and represents an outstanding choice for start-ups, like e-commerce. Likewise, VirtualPBXs Starter plan is an incredibly affordable option for less than 20 employees that want to add PBX features to an existing phone service.
For small professional offices with or without remote workers, Ooma Office provides an excellent service that's both an effective, reliable phone system, and one that's affordable. It's an outstanding choice for law, advertising, financial, real-estate, and insurance establishments.
For those considering a small to medium sized International call center, 8x8 provides a compelling solution.
For car dealerships, healthcare and education, GoToConnect remains a leading choice.
For any sized business that requires advanced app integration and retains a more sizable budget, VirtualPBX delivers a powerful integrated multi-channel solution. Likewise, Nextiva represents a superior choice for a fifty-plus person contact center and customer management business, who require a secure and reliable multi-channel system that works across multiple devices. VirtualPBX, RingCentral, MightyCall, and Nextiva have plans for large organizations and provide integration with numerous CRM tools.
---
Disclosure: Keeping with transparency; when visitors who purchase products and/or services discussed on our site through onsite affiliate links or ads, we then may earn affiliate commissions. Some providers have no affiliation. We qualify services, providers and equipment based on use, stability, features, user satisfaction and value regardless of any affiliation.