Polycom IP Phone Manuals for SoundPoint, Soundstation & VVX
RECOMMENDED PROVIDERS
PLAN HIGHLIGHTS
RECOMMENDED FOR
MONTHLY FEES
DETAILS

Unlimited Calling, Faxing, Business Texts, Conf
Integrated Message, Video and Phone, easy to use
Trusted by over 400,000 businesses, well designed

Any sized business; Integrated phone,
video and team collaboration tools.
$19.99
Details

Award winning VoIP business with 50+ features
Collaborate from anywhere, video, desktop, & mobile
No extra fees, 30-day risk-free trial, no contracts

Remote teams, new or small
growing businesses, professional offices.
$19.95
Special: Buy 1 Get 1 Free
T21 IP Phone
Details

System integrates business communication apps
Collaborate from anywhere, video, desktop, & mobile
Customer Contact Management, Active engagement, AI

Customer contact center, remote
workers, multiple locations.
$18.95
Quote

Full-Featured Award-winning Business VoIP
Custom Voice Solutions with Managed Support
Unlimited calls, business texting, call recording, video conf., 24/7 support

Entrepreneur, start-ups, small teams to
multi-national enterprise call center.
$9.00
Great Starter Plan
Quote

Polycom (now known as Poly) has manufactured the high-end Soundpoint IP telephones, VVX phones and Soundstation conference phones for quite some time. These SIP based phones have been a mainstay as endpoints for Asterisk based systems and hosted VoIP cloud based services, as well as many with other PBXs that are based on a flavor of open source Asterisk. Here you can find many of their popular phone guides for download. The latest Polycom line of IP phones are the VVX series, sleek high-end, high quality phones in affordable prices which are favorite choice among many Asterisk IP-PBX based solutions. If your deciding on getting a cloud based phone system, then these 2 Polycom phones are our top picks: Best Phones for Hosted VoIP. If you want a quote for our top rated cloud PBX provider with 4 plans to choose from: RingCentral Office Hosted VoIP
Polycom SoundPoint SIP Phones and Soundstation Conference Phone Guides
Polycom IP Phone Guides
Polycom IP Phones Quick Guide
Polycom Soundpoint 320-330 Quick User Guide
Polycom Soundpoint 330 User Guide
Polycom Soundpoint 501 Quick User Guide
Polycom Soundpoint 501 User Guide
Polycom Soundpoint 501 Spec Sheet
Polycom Soundpoint 601 Quick Start Guide
Polycom Soundpoint 650 Quick User Guide
Polycom Soundstation IP 6000 Quick User Guide
Polycom Soundstation IP 6000 User Guide
Polycom Soundpoint Admin Guide
Polycom VoIP Phones Brochure 2007
Polycom SoundPoint and Soundstation Administration Guide SIP 3.1
Polycom SoundPoint IP670 Quick Start Guide
For the best prices with free shipping on Polycom VVX phones from trusted suppliers: Polycom VVX IP Phones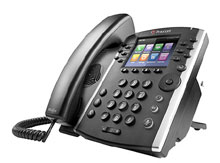 The popular Polycom VVX 400
phone with color display.
Polycom VVX Telephone Guides

Polycom VVX IP Phones UC Software Administration Guide
Polycom VVX Business Media Phones Guide
Polycom VVX 300 series Media Phones Quick tips
Polycom VVX Media Phones User Guide
Polycom VVX IP Phones Administration Guide
Polycom VVX 300/310 User Guide
Polycom VVX 300 and 400 IP Phones Quick Start Guide
Polycom VVX 400 & 410 User Guide
Polycom VVX 500 and 600 IP Phones Quick Start Guide
About Polycom (Poly)
PoE or Power Supply. For a new deployment installing a PoE switch and using PoE phones has advantages. For home offices, or if you do not have a PoE switch, make sure to get phones that come with a power supply.

Polycom was a publicly traded corporation based out of California, however after a failed earlier attempt by Mitel to purchase Polycom, it was announced on September 2016 that a Polycom completed an acquisition by a private capitol company, Siris Capital Group, LLC.. Polycom continues to develop video, voice and communication technology and are well known for their excellent line of SIP based phones. Polycom has become a standard in IP endpoint technology. This multinational corporation has in 2018 been acquired from Siris by Plantronics and is now known simply as Poly.
Great Prices on Polycom Phones from Trusted Vendors
For the best prices on new and renewed Polycom telephones from a trusted vendor;
Poly - VVX 411 12-Line VOIP Business Phone (Polycom) POE New
Polycom VVX 400 Series Business Media Phone POE (Power Supply Included) (Renewed)
Polycom VVX 250 NEW
---
Best Hosted VoIP Providers
Find out which are best cloud PBX phone companies. Some VoIP providers offer distinctively unique plans. There is no one single plan or company that fits all customers. We break down the pros and cons of the top business VoIP providers. These are our top rated hosted VoIP providers: Best Cloud PBX Companies
Looking to use your own Polycom Phones with a New IP-PBX?
Five on-premise IP-PBXs to Use with Your Existing Phones
---
NOTE: PbxMechanic.com is a participant in the Amazon Services LLC Associates Program, an affiliate advertising program designed to provide a means for sites to earn advertising fees by advertising and linking to products on Amazon.com. Amazon and the Amazon logo are trademarks of Amazon.com, Inc. or its affiliates.
Keeping with transparency; when visitors purchase products and/or services discussed on our site through onsite affiliate links or ads, we usually then earn affiliate commissions.