MiVoice Connect on-site PBX System Guides
MiVoice Business offers PBX systems that can handle all sizes of companies from five employees to over 100,000 whether they are together in a single location or occupy multiple sites. Mitel offers the MiVoice Office 250, 400, 5000 and MX-ONE.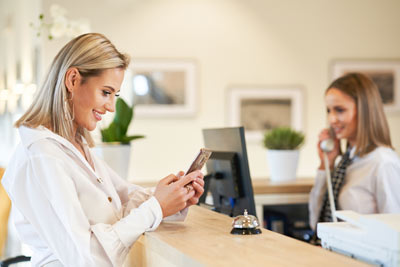 The MiVoice 400 has been enthusiastically received in the hospitality industry and is known to provide excellent functionality for both large and modest hotels. It can even handle resorts with 500 rooms. The Mitel 400 Hospitality Package is a tailored solution that includes both communication and administrative components designed specifically for hotels and guest management services. You can download the Mivoice 400 Hospitality Package Brochure here in pdf.
For the best prices on brand new and renewed Mitel MiVoice telephones;
Mitel MiVoice 6930 IP Phone
Mitel MiVoice 6920 IP Phone renewed
Mitel MiVoice 6940 IP Phone w/Wireless Handset new
Mitel MiVoice 6940 IP Phone (50006770) w/Wireless Handset (Renewed)
Mitel acquired ShoreTel in 2017. Shoretel's technology is now at the core of the Mitel MiVoice Connect platform. These robust PBX systems maintain superior standards of reliability and performance for a broad spectrum of establishments. At that time Mitel renamed ShoreTel 14.2 to Mitel 14.2. Shoretel Cloud Connect is now MiCloud Connect and ShoreTel Connect Onsite is now MiVoice Connect.
Mitel MiVoice Office PBX Manuals
MiVoice 250
Mitel Mivoice 250 Phone User Guide
Mitel Mivoice 250 Programming Guide
Mitel Mivoice 250 Admin and Troubleshooting Guide
Mitel Attendant Console User Guide
MiVoice 400
Mitel Mivoice 400 Hospitality Package Brochure
Mitel Mivoice 400 Features
Mitel Mivoice 400 Brochure
Mitel Mivoice 470 System Manual
Mitel Mivoice Office Administration Phone Guide
MiVoice 5000
Mitel Mivoice 5000 Voicemail Admin Guide
Mitel Mivoice 5000 Installation Guide
Mitel Mivoice 5000 Operating Manual
---
the best Hospitality Phone Systems
Mitel's MiVoice 400 Hospitality rates as one of the top hotel phone systems. It's designed specifically for guest management services. See our others Best Hospitality Phone Systems
About Mitel and its acquisition of Shoretel

Mitel, a privately held Canadian company, remains a global provider of business communications and collaboration software and services. Mitel offers communications solutions that fulfills the needs for all sorts of organizations, from small to medium companies all the way to enterprise solutions. Mitel has concluded several acquisitions over time increasing their product offerings and footprint. In July 2017 Mitel announced they had reached a deal for ShoreTel, which they went on to acquire. As time proceeded Mitel incorporated Shoretel's technology into an updated product Mitel MiVoice Connect. These leading on-site PBXs offer versatility and performance and are regarded as a first rate solution.
NOTE: PbxMechanic.com is a participant in the Amazon Services LLC Associates Program, an affiliate advertising program designed to provide a means for sites to earn advertising fees by advertising and linking to products on Amazon.com. Amazon and the Amazon logo are trademarks of Amazon.com, Inc. or its affiliates.