NEC Manuals for DSX40 and DSX80
NEC DSX Phone System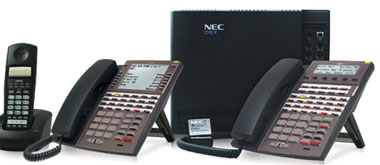 Download the DSX NEC phone manuals for the DSX40, DSX80 and DSX160 telephone systems. The NEC DSX digital phone systems remain an excellent, value priced, small business phone system that can handle many small business user's needs that can be found refurbished. The DSX phone system has come to end of life as announced by NEC. On June 30, 2019, the company announced it would end support for all the DSX products. However, these systems are easily found refurbished and should remain a viable phone system for several more years.
For a basic feature set the DSX provides a dependable phone system for many small businesses. The DSX over years remained one of the most popular NEC small business phone systems. Expandable, durable and an outstanding value, buyers rate these systems positively finding just the ideal number of fundamental features. The DSX is relatively easy to install for a phone technician and available for purchase directly to the public. Further down you will also find the DSX system administration software for download.
For the best prices on renewed NEC DSX telephones;
NEC 1090020 DSX 22-Button Display Telephone
NEC DSX 80 160 1090020 DX7NA-22BTXH 22B 22 Button Digital Display Telephone
NEC 1090021 - NEC DSX 34B Display Telephone with Speakerphone
---
NEC DSX Manuals

NEC DSX Programmers Quick Ref Guide
NEC DSX Programing Manual
NEC DSX Features Manual
NEC DSX Software Manual
NEC DSX Multi-button Telephone User Guide
NEC DSX Super Display Telephone User Guide
NEC DSX Telephone Feature Handbook
NEC DSX Telephone Feature Handbook
NEC DSX Single Line Telephone Ref Guide
NEC DSX Cordless DECT Owners Manual
NEC DSX 40 and DSX 80 Brochures
NEC DSX40/80 Phone System Brochure
DSX Business Brochure
Instructions to Change Time On a NEC DSX telephone. Change time on NEC DSX phones.
---
The folder offers the NEC DSX Administration Programming Software v3 for download in a zipped file for download.
58324 KB Zipped
---
About NEC and the DSX40 Systems

NEC Corporation, a Japanese multinational Telecom and IT company, with headquarters in Minato, Tokyo, Japan, providing information technology (IT) and network solutions to businesses around the world. NEC was once known as the Nippon Electric Company before re-branding in 1983. NEC celebrated their 100th anniversary in 1999. The DSX series business telephone system has been a first choice for many smaller business who are looking for a dependable lower cost system with a great feature set. One of the extra benefits of the DSX40 and other DSX systems are the ease of installation. These systems are available refurbished from suppliers. June 2019 was the end of support from NEC for all DSX products.
NOTE: PbxMechanic.com is a participant in the Amazon Services LLC Associates Program, an affiliate advertising program designed to provide a means for sites to earn advertising fees by advertising and linking to products on Amazon.com. Amazon and the Amazon logo are trademarks of Amazon.com, Inc, or its affiliates.