Best Small Business Routers for a Cloud Based Phone Service
Updated 5/29/2023
Cloud-based phone providers regularly recommend certain configuration settings on a customer's router and/or firewall, regardless of the make or model. These settings include that both SIP ALG (Session Initial Protocol-Application Layer Gateway) and SPI (Stateful Packet Inspection) should be disabled. If the device does not retain a disable option, it should be replaced for one more suited for VoIP. Likewise, the ability to prioritize traffic to and from a particular device, known as QoS (Quality of Service) remains a requirement for a small business router. If your router does not offer configurable QoS, then get another router.
Your small business router should permit SIP ALG and SPI to be disabled and offer QoS options.
Many providers maintain a list of recommended reliable routers and a few that are specifically not recommended. Each provider's list varies based on a history of support and customers utilizing them successfully with their service. Every so often, a recommended router is removed from the list, as a newer firmware version causes issues with VoIP.
Overall, routers have become more sophisticated, incorporating solid rudimentary QoS features, which are paramount for reliable VoIP service in a business environment.
Top 5 Small Business Routers for Cloud-Based Phone Service Recommended By Providers
1) Cisco Meraki MX64 Network and Security Appliance
At least one major VoIP provider currently recommends each of these routers. Several providers recommend a few.

The Cisco Meraki MX64 Network & Security Appliance represents an ideal solution for a multi-site business to eliminate the need for multiple devices. It's designed to streamline security and VPN deployment for up to 50 clients. The MX64 uses SD-WAN to allocate voice and video bandwidth at the same time as dynamically controlling the network's cloud applications. With Zero-touch provisioning and intuitive cloud-based management, the Meraki MX64 can be deployed in minutes, rather than days.
What we found outstanding:
An impressive router with built-in firewall security, eliminating the need for multiple devices.
A leading choice for a multi-location business to manage distributed deployments remotely employing extensive QoS capabilities.
It incorporates SD-WAN with simplified management tools.
What we identified as potential shortcomings:
More costly than other routers/firewalls, specifically when adding licensing to unlock more advanced features.
Users have complained over the phone tech support represents a challenge.
---
---
2) Netgear Nighthawk X10 Smart WiFi Router (R9000)
The Nighthawk X10 remains one of the fastest tri-band routers in production. Its four external antennas amplify WiFi signals by applying beamforming to maximize throughput. Furthermore, it incorporates a powerful 1.7GHz Quad-Core processor and Quad-Stream architecture to produce combined wireless speeds of up to 7.2Gbps. Utilizing its dynamic QoS you can identify online activities by application and device, and then designate and prioritize bandwidth allocation.
What we found outstanding:
Excellent WiFi when multiple endpoints are in simultaneous use with incredible fast media streaming and instant downloads.
Incorporates six Gigabit Ethernet LAN ports and two USB 3.0 ports.
The Nighthawk interface is user-friendly. Using remote access, you can manage your network from anywhere.
What we identified as potential shortcomings:
It can generate heat, so needs to be placed in a proper place.
Users have knocked the setup process as messy, especially using chrome.
---
3) Linksys EA8300 Max-Stream Tri-Band AC2200 WiFi 5 Router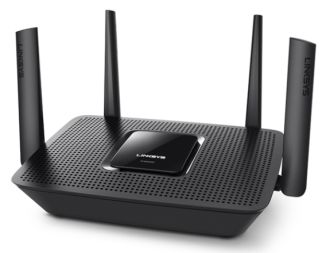 With double the performance of a dual-band router, the Linksys Max-Stream AC2200 Tri-band Router (EA8300) represents a sound choice for a modest office using roaming Wi-Fi devices and still maintain fast data transfers while using VoIP. And even though it retains an older Wi-Fi 5 technology, it remains a suitable choice for most offices.
With a range for up to about 2000 square feet, Wi-Fi won't experience lags with up to twenty-five devices connected. It comes with four Gigabit Ethernet ports built-in.
What we found outstanding:
An exceptionally affordable basic router incorporating easy to configure media prioritization.
After being setup, the app shows devices with a named icon displaying which are active, and which are prioritized.
Linksys phone support regularly receives compliments from users.
What we identified as potential shortcomings:
Some users have complained initial setup using the app is arduous.
No OpenVPN server, just pass through VPN.
---
4) SonicWall TZ Series Appliance - Business router & firewall

The SoniceWall TZ SOHO, as well as the entire TZ series with the SonicOS Enhanced software, are exceptional small business router/firewall appliances. Each can be bundled with optional applications, such as effective intrusion prevention, anti-malware, content/URL filtering and application control, for an extra cost. These appliances deliver an encompassing solution with built-in next generation security for multi-location businesses with a total low-cost of ownership.
What we found outstanding:
Simplified installation through Zero-Touch deployment and easy SD-WAN centralized management.
Designed precisely for the needs of small businesses and branch locations with enhanced QoS capabilities.
Built for reliable performance under heavy traffic and load.
What we identified as potential shortcomings:
Costs can increase when adding multiple yearly security application subscriptions.
Foreign-based support frequently adds challenges.
---
5) TP-Link Archer AC1900 WiFi Router
TP-Link has manufactured excellent dependable routers. The Archer AC1900 incorporates three external antennas plus one internally that use Beamforming to maximize coverage area and stability for multiple devices. It is a capable router for a small office with gigabit Ethernet ports (1 WAN + 4 LAN) that has been extensively tested through many installations. It's a low-cost basic option that delivers reliable performance and incorporates a range of features and a VPN Server.
What we found outstanding:
Simplified straightforward setup with a logical GUI.
An affordable small office router with a limited lifetime warranty incorporating a built-in FTP server.
TP-Link provides knowledgeable, helpful customer support.
What we identified as potential shortcomings:
Only incorporates a limited set of adequate controls.
The device does not include a USB port.
The best deals on these 5 routers
from reliable sources.
Conclusion
Each of our best five business VoIP routers is recommended by at least one business VoIP provider (Several of our choices come recommended by multiple providers.) and none are included on anyone's incompatible list. The Dell SonicWall TZ SOHO and the Cisco Meraki MX64 are each rated for up to 50 users and would represent an excellent choice for a multi-site company. As businesses move more services to the cloud, the SonicWall with its network protection, as well as Meraki, with its SD-WAN capabilities, are gaining in popularity. The Netgear Nighthawk X10 Tri-Band router is currently much more affordable than when it was first offered, so accordingly has become a leading choice for an office in the twenty+ range of devices. Any of these routers would be a great choice for a small business that is adopting cloud-based phone service.
Small offices transferring to a cloud-based business VoIP service will experience the best results, employing a router that offers advanced QoS capabilities. A list of recommended routers can often be found on the provider's website or by asking tech support. Routinely routers require certain configuration changes, such as disabling SIP-ALG, to name just one. In any case, selecting a router that is on a recommended list helps ensure better service. Using a flashed router with open-source firmware, like DD-WRT, was once a viable option, but is no longer suggested. Several leading providers currently list DD-WRT as incompatible with their service.
---
---
NOTE: PbxMechanic.com is a participant in the Amazon Services LLC Associates Program, an affiliate advertising program designed to provide a means for sites to earn advertising fees by advertising and linking to products on Amazon.com. Amazon and the Amazon logo are trademarks of Amazon.com, Inc. or its affiliates.