VoIP Settings for Brother Fax Machines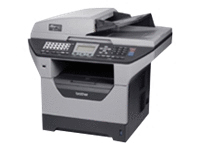 Brother All-In-One and Fax machines have represented a small business standard in the industry and luckily Brother has responded to the VoIP revolution by making a Basic setting easy to access on their later model machines, which allows for faxing over VoIP. Many older Brother fax machines were very difficult, if not impossible, to make any changes to the BAUD rate or ECM (Error Correction Mode). With VoIP, the BAUD rate needs to be set to 9600 and ECM disabled. In Brother machines, there is a Basic setting good for VoIP that can be found in Compatibility.
Faxing over VoIP with a late model Brother Fax Machine
How to Change Compatibility Settings for VoIP:
Press Menu, then select Fax.
Navigate to Miscellaneous, then Compatibility.
Select Basic for VoIP or Basic*.
*This selection will reduce the speed of the Brother fax BAUD rate to 9600bps and turns off ECM.
Faxing over VoIP on older Brother fax Machines
How to Set Overseas Mode for an Outbound Fax:
Pressing the Fax key should act to illuminate it. After which you will want to load your document that is to be faxed.
Next Press the Menu/(Set) key and then Press 2 and then 2 again and then Press 7.
Press the Up or Down Arrow and select On and then Press the OK Key.
On some machines, you will find the Overseas setting under Fax Settings, Additional Functions, which can vary from model to model. After entering Additional Functions, the menus will display and the Additional Function Key will Blink. Use the Left (-) and Right (+) arrow to select the menu you want, in this case, Fax Settings. Press Set.
Lowering the Baud Rate on some Brother Fax Machines:
Press the Menu/Set key the Press 2, then 0, then 1.
Use the Up or Down Arrow key and then select Basic.
Press the Menu/Set key and then Press the Stop or Exit Key.
An Internet faxing service offers more features
Cloud-based, or Internet fax service is a superior alternative for some businesses. There are advantages, although having an actual fax machine for many companies is a must. Before you decide which is best for you, learn about Internet fax services, their advantages and their limitations.
---
NOTE: PbxMechanic.com is a participant in the Amazon Services LLC Associates Program, an affiliate advertising program designed to provide a means for sites to earn advertising fees by advertising and linking to products on Amazon.com. Amazon and the Amazon logo are trademarks of Amazon.com, Inc. or its affiliates.