Grasshopper phone service offers small business a convenient way to advance their communications to present a professional image. Designed to enhance your current phone service, Grasshopper's virtual phone service makes it easy to acknowledge every call in a businesslike manner. Use either your existing smart phone or your phone service at home. You start by picking a number and a plan (Or port a number you currently maintain.) When customers call that number they are presented with a professional automated greeting directing them to the appropriate person or department. The Grasshopper app makes handling calls the way you need to exceptionally straightforward.
Here's How Grasshopper Mobile Phone Service will Grow Your Business
Grasshopper phone offers vanity, local and toll-free virtual phone numbers. Each of their three main plans includes the entire set of features.
Grasshopper's cloud phone system is designed employing virtual phone numbers that are then directed using VoIP to your current phone service on any device that you employ. You can have calls forwarded to your smart phone or a phone at home. You'll never have to miss another important call because Grasshopper indicates when an incoming call is business. Furthermore, utilizing their uncomplicated platform, you have the mechanism to specifically control those calls.
Grasshopper phone service does not require any auxiliary equipment. It's designed to work with your existing cell phone or landline service.
When a customer calls the system's automated attendant answers the call offering options. You set options, so the right person receives the call or you can have it go to voicemail during specific hours.
Listen to an example for a main greeting.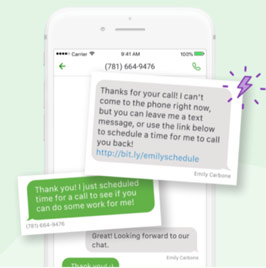 Using the Grasshopper incoming call app, you can totally customize how and when you receive calls. You can set specific hours, an away greeting or offer alternative options depending on time or day of the week. Your customers experience a custom greeting, an attendant with multiple options, a name directory and on-hold music.
Flexibility is especially necessary for very small companies with limited employees and mobile entrepreneurs. One feature that entrepreneurs really like is instant response. When a call from a new client can't be taken, Grasshopper can automatically send a response text message letting them know you're unavailable. They can even respond with their call-back details. No one wants to loose out on a new prospect.
All Grasshopper Plans include:
Mobile + Desktop Apps
Business Texting
VoIP + WiFi Calling
Call Forwarding
Voicemail + Read Your Voicemail
Simultaneous Call Handling
Virtual Fax
Extensions
Custom Greetings
Incoming Call Control
Call Transfers
Business Phone Number
Instance Response
Reporting
Pros and Cons of Grasshopper Phone Service
Grasshopper is unique. Unlike a traditional hosted VoIP service, you're not replacing an existing phone service, but adding a beneficial service. Grasshopper offers a virtual phone service tied to an existing phone service, such as your existing smart phone.
PROS
You won't need any new hardware. Your one phone is used for both business and personal, keeping both separate. Your personal phone number remains private to business clients.
Established company with thousands of small business customers.
Easy to have up and operational in minutes. Easy to use with great mobile app.
Can choose local or toll free virtual numbers or a vanity number.
Work from anywhere taking calls and using business texting.
24/7 US based support with lots of helpful small business guidance.
Cons
Must pay yearly for best price.
Grasshopper is a virtual inbound add-on service, so requires an existing phone service for outbound calls. You're still required to pay for your existing phone service's plan.
No call recording or video conferencing.
Infrequent broken voice on a call.
Random inaccuracies with voicemail transcription.
---
---
What We Really Like About Grasshopper
Grasshopper has many admirable components, the first of which is it's an added service to your existing phone service. Grasshopper's virtual phone service is designed to work over and upon your existing landline or smart phone service. That turns out to be a big advantage for those that do not want to replace their current smart phone service. Rather than having to completely change, you're adding a carefully designed business communication platform to enhance your current service. That makes it an unquestionably good fit for many sole proprietorships or new companies with two, three or four employees who are using smart phones.
Examples include individual real-estate agents who find the service offers them enhanced tools for customer interaction. And teams of agents prize the platform as a group add-on for each individual agent. Grasshopper bands them together as a unit for efficient management. Home inspectors utilize the virtual fax feature appreciating how easy it is to receive faxes as attachments from out in the field.
Grasshopper really does succeed in providing powerful tools. It's a platform that improves how a very small business handles their customers. It's affordable and will scale up as a new business adds a few additional employees.