RJ21 25 Pair Amphenol Telephone Connector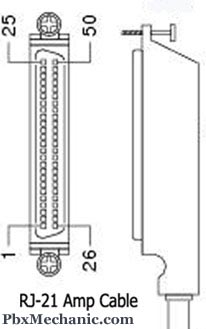 A 25 pair RJ21 Amphenol cable is a necessity for many connections. This 50-pin connector interfaces for data-com trunking with the RJ21 connector, using screws to anchor into place. It is referred to as an Amphenol connector which references the connector's manufacturer. These cables are commonly used to connect wiring to a 66 or 110 block, the operation of which is frequently called to punch down, or to a patch panel. In some telephone systems the distributor will supply a cable already punched down to a block saving time on installation. Below is a useful pin out chart showing the wire colors.
---
50 Pin 25 Pair RJ21 (Amphenol) Telephony Connector Pin Out Chart Colors
---
NOTE: Pbxmechanic.com is a participant in the Amazon Services LLC Associates Program, an affiliate advertising program designed to provide a means for sites to earn advertising fees by advertising and linking to products on Amazon.com. Amazon and the Amazon logo are trademarks of Amazon.com, Inc. or its affiliates.
For the best prices on Amphenol cables from trusted suppliers:
For the best prices on RJ21 cables;
Amphenol CS-DSDMDB25MF-010 25-Pin DB25 Deluxe D-Sub Cable, Shielded, Male/Female, 10', Gray
ICC Male to Male Telco Cable Assembly in 25 Pair, 15 FT
Amphenol Cable, Male-Male 25 ft.
Find other articles of Interest at: Mike's PBX tips.