Best On-Premise Asterisk® based IP-PBX Business Phones Systems. cont.
Top two on-premise IP-PBX UC Appliance Manufacturers
Our second manufacturer, Sangoma, incorporates all of our initially discussed requirements (part one- Best On Premise PBX Manufacturers) into two well thought Asterisk IP-PBX server appliances, FreePBX and PBXact. For those that demand control of their system using Asterisk and FreePBX, the well tested, hardened PBXact line comes with several optional levels of support available directly from the manufacturer. These locked systems have been meticulously tested for flawless operation under various conditions. For those companies that require SLAs (Service Level Agreements) these support options can be a critical requirement.
For companies that demand individual granular control, the FreePBX line incorporates the quintessential server choice, because Sangoma, now the owner of Asterisk and FreePBX, designed them. The largest PBX companies have taken notice of Sangoma, who since acquiring Schmooze and FreePBX in 2015 went on to acquire Digium and Asterisk® in late 2018. They have become a dominate provider of effective communications solutions. And not to lie still, they subsequently went on to acquire VoIP Innovations in late 2019 and LLC in 2020.
2 - Sangoma FreePBX and PBXact Series On-Premise Phone Systems
Sangoma FreePBX and PBXact Appliance Series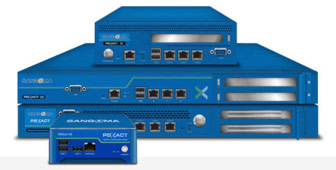 Sangoma's FreePBX and PBXact appliances come pre-loaded with the extremely popular FreePBX Distro and are rigorously tested for dependable optimal performance. These appliances are the only officially supported hardware solution for FreePBX, as Sangoma owns FreePBX. Sangoma's 30 year history of manufacturing some of the best telephony cards in the world provided them a substantial foundation in the Asterisk PBX world.
The FreePBX Distro has made deploying, configuring and using a PBX simpler than ever with Zero Touch Provisioning when installing Sangoma's IP phones. FreePBX, the GUI front end of Asterisk is easy-to-use and probably the best interface worldwide with millions of installations and a huge support community. The PBXact line of servers are hardened and tested before being locked down to prevent changes that might cause unwanted issues.
Sangoma has produced a line of IP-PBXs that can handle any size organization. The FreePBX Phone System line starts with the 40 and goes to the 1000, with the model number indicating the number of maximum extensions. The PBXact line starts with the PBXact 25 and goes all the way to an enterprise 5000, able to handle an enormous 1500 simultaneous calls. On both FreePBX and PBXact, the 60 model incorporates 2 PCI express slots for FXO, FXS or T1/PRI cards. This first model with PCI slots would out compete just about any other manufacturer's PBX on the market, coming in with an initial more moderate cost, a better feature set and a reduced cost of on-going ownership. Sangoma also manufacturers an impressive line of IP phones that when matched with any of their appliances include Zero Touch Provisioning.
Full Featured IP-PBX with AN advanced Call Center applications solution.
With an impressive array of built-in features in every appliance and a company that will be there now and in the future Sangoma has established itself as a top choice. Take a look at some additional points that establish Sangoma up as one of the leading IP-PBX manufacturers:
A complete build your Call Center solution with a features like Web CallBack without exceeding your budget.
XactView Operator Panel, that provides call center management with a live view of call center metrics, agent activity and the ability to barge-in and move callers through the queue.
High Availability solutions.
Conclusion
Grandstream and Sangoma continue to deliver the most impressive affordable Asterisk based IP-PBX UC appliance systems and SIP standard IP phones. By leveraging successful open source platforms of Asterisk, FreePBX and Linux, both these systems have been developed as effective, robust on premise PBX solutions. Both of these VoIP PBX appliances offer outstanding options for companies that want to engage low cost SIP calls using SIP providers.
Each company is dedicated to maintaining and improving their IP-PBX appliances now and into the future.They also maintain a growing community of customer support for companies that want to assume in-house control over their entire network.
Both companies have an extensive and impressive history of high standards, quality products and financial stability. This points towards the conviction that both companies will remain to be industry leaders for many years to come, a primary consideration when choosing a product that will be driving your communications for years to come.
Adopting the appropriate solution includes scalability for future growth, ease of system integration for true unified communications and lower costs. Not having to pay an additional license fee every time you add an extension is essential, which some PBX companies have been known to do. Both solutions are available with a choice of peripheral hardware endpoints and industry specific apps. Grandstream and Sangoma deliver on all these considerations.
NOTE: PbxMechanic.com is a participant in the Amazon Services LLC Associates Program, an affiliate advertising program designed to provide a means for sites to earn advertising fees by advertising and linking to products on Amazon.com. Amazon and the Amazon logo are trademarks of Amazon.com, Inc. or its affiliates.
page 1 - Best On-Premise Business IP-PBX Phone Systems Related Article: Top Rated PBX Business Phone System Brands