Easiest Business Phone Systems to Self Manage
Self management of your small business PBX, although not for everyone, can offer more control and lower your office expenses. Hosted VoIP (Cloud Based Phone System) has proven to great for self management.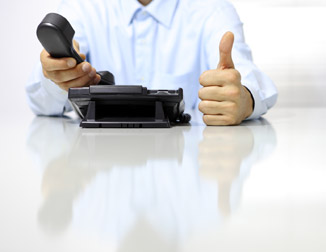 Managing your own business phone system offers more control and often reduces expenses if the right type of phone system is chosen. Some newer IP-PBX phone systems and hosted PBXs are designed to offer more control for the do it yourselfer, all the way from the initial install, configuration and setup to later admin management needs that include moves, adds, and changes. By using systems that are well designed with intuitive interfaces and direct provider or manufacturer support many small companies can take total control of their phone system and reduce expenses.
Small companies often want to save business costs so that more of their operating expenses end up being spent on sales, employees and improving their customer base. Business communications, which include the office phone system, regardless if it's a cloud based PBX or an on-premise PBX server, have associated costs that have to be budgeted for. Unless someone in the company is capable of administering the system, which can vary from relatively easy, as with a hosted PBX, to more complicated, like an in-house server that comes with the manufacturer support, then a telecom professional telecom will need to administer the system at an additional cost. Traditional telecom brands, like Samsung, Avaya or Shoretel (now Mitel) for instance, typically require an authorized partner for installation and later MAC (Moves, Adds, Change) changes, all at a cost.
Choosing the right phone system based on ease of management can offer additional financial benefits over time. Not for everyone, but those that have some network or computer savvy can excel in managing their phone system system themselves alleviating the expense for outside help. Excellent do it yourselfer choices can include just about all cloud based PBX solutions, although some rate higher than others for ease of management. And there are certain on-premise PBX systems that offer direct customer support from the manufacturer, although just a handful.
Choosing the right new business phone system should be based on a number of factors, including price, features, cost over time, suitability & usability and ease of administration.
Self management is just one criteria of many when making the best choice for a new business phone system. For instance, hotels and motels should stick with one of the top hospitality phone system brands as they will add value to the business. Businesses with warehouse environments which have lots of existing telephone cables that would be costly to upgrade to Ethernet would be best choosing a traditional PBX like Avaya IP-Office. Cloud based PBXs can be an excellent choice and have evolved into excellent reliable robust phone systems. And if your business does not want to even get involved with administration of a phone system, then alternatives can include traditional PBX brands, that is some cases other than adding a new phone, can work without any changes for years.
Cloud Based PBX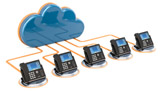 Cloud based PBXs (hosted VoIP) are tailored to have the customer self manage their phone system. Management GUIs are intuitive and well designed so most users can navigate through the configurations. They also offer customer support over the phone as part of their monthly service price, making these systems especially attractive for small business do it yourselfers. Upgrades are done by the provider with the PBX server residing in the cloud. Adding or removing a service is easy and immediate offering instant scalability.
Pros
Lowest initial cost
New businesses
Remote employees
Best choice for Easy Self Administration
Fast, easy deployment
Low cost International rates
Provider takes care of upgrades
Cons
Monthly costs can quickly increase for some advanced features if extra.
Very large companies (over 200 seats) need to review costs.
These hosted VoIP companies get top reviews: Best Cloud PBX Companies
On-premise IP-PBX with Manufacturer Support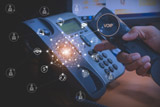 A few companies offer business PBX servers designed with user friendly management GUIs. By including online help resources and direct phone support they have managed to break the traditional PBX manufacturer's model of only selling through partners, allowing the customer total control. Generally more difficult than a hosted solution, these VoIP PBX severs can be managed by someone with some computer or network skills. Additionally, they offer helpful resources and phone support direct to the customer.
Pros
Can keep some traditional phone service if needed (CO lines)
Total control & Lots of customization
No License Fees
Company with IT person
Multiple locations
Lower costs over time period
Multiple SIP providers
Cons
Server software upgrades require planning
Security
Two IP-PBX appliances for self management: 2 IP-PBXs to Self Manage
Traditional PBX Systems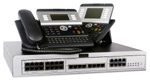 For a long time traditional telecom manufacturers have built their PBX systems from the bottom up, both hardware and software being proprietary. Each PBX system requires certain specific phones from that manufacturer. Installing and configuration requires a partner professional knowledgeable in that system. An Avaya tech probably won't know Samsung, a Comdial tech probably won't know Mitel, which leads to knowing a local telecom company that can work on your phone system. They are usually the one's that might have installed it.
Pros
Keep connection to existing telephone provider (PRI or CO lines)
Great choice for using existing telephone wiring
Recognized brands
Systems can be digital, IP, VoIP or a combination
Those that do not want to manage the phone system
Cons
Phone moves require a phone tech
License fees
Requires specific telephones
For some of top on-premise PBXs: Best On-premise PBX Systems