Automatic Call Distribution Software is the Technology that Supports Contact Centers
Choosing the right Contact Center solution for an existing PBX is best left to a telecom professional. The appropriate package should include exceptional call center technology, offer robust metric analytics for advanced reports, and be able to completely integrate with your existing CRM applications.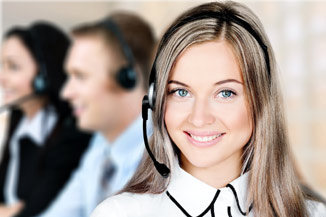 Many existing PBX phone systems include some ACD (Automatic Call Distribution) functionality. For instance, the modest version of the Avaya IP Office includes it in the form of hunt groups. If you need more sophisticated call distribution, whether for ten calls an hour or hundreds, the first place to start is to take stock of your current phone system. You may find some existing services or features that can be used as an effective solution. Some features can be set up to operate in a way to create an organized call tree that will queue calls. In some cases, it might be enough to make do. Otherwise, a more robust ACD package is the answer. Avaya's answer is the IP Office Contact Center, a multi-channel inbound/outbound solution that can connect with an existing or to a new IP Office PBX. Other PBX manufacturers maintain ACD products that work with their particular business phone solutions. Telecom professionals with ACD experience recognize the importance of selecting the appropriate software. Engaging experienced technicians routinely results in the most practical solution. Along with the ACD software there exists feature modules and requirements for installation, configuration, and integration.
Some of the common types of call distribution are:
Classic ACD (most idle)- Calls are distributed based on elapsed time. The agent that has been available for the longest time receives the next call.
Round-robin- Calls are distributed equitably in the form of a loop. All agents get a call, after which the process starts afresh with agent one.
Programmed distribution- The ACD is programmed to send calls determined by a set of criteria including skills, language, experience, etc.
Idle agent- Calls go to the agent who are idle for the longest time. This method allows for even use of the agents phone time.
Sequential- Calls are sent to agents in a specific order. The primary agent consistently receives the call, if available. If not available then the call goes to a designated backup agent.
---
---
Consider These Three Different Call Center Scenarios:
1
A company has an existing PBX that handles their calls efficiently. They currently require incorporating call center capabilities to better handle customers and engage in outbound call campaigns to expand its business.
2
An existing company has outgrown its older business phone system and is seeking advanced technology at an affordable price. Any replacement phone system would require some call center features. The effective solution should be able to handle their current business requirements, as well as be capable to expand capacities as the business grows.
3
A business owner is starting a completely new contact center and retains many remote agents. Along with requiring a cost-effective solution, it must include advanced features with an Omnichannel ACD functionality. In addition, requirements include scalability with the ability to integrate a second center within the next year.
Regardless of which position you may determine yourself in, the effective solution requires a telecom professional. One that can wade through diverse products and technologies to offer the best-tailored solution.
A contact center can often be set up with minimal hardware. The only necessary equipment would be computers, a broadband connection, and headsets. These cost-effective centers ordinarily find that the fastest and most practical solution is to select a hosted VoIP provider that offers call center features. The initial savings and ease of startup often help bolster some of the best small organized contact centers. For companies starting out often the preferred solution is a hosted VoIP provider that understands the requirements of a contact center. RingCentral has gained a reputation for effective Omnichannel solutions that integrate with CRM software. A dominant hosted VoIP provider recognized for its innovative platform, RingCentral offers a superior cloud based contact center solution. Customers that use RingCentral Contact Center have consistently endorsed the advantages and stability of RingCentral.
However, most existing companies at present have a phone system in place and desire the guidance to both understand and get the most practical call center ACD product. An ACD that is cost-effective considering their singular situation. The solution could be a cloud based hosted solution or adding an ACD package to the existing phone system. Understanding the existing infrastructure, telephone
services, applications that a company uses and how it will all come together for now and the future requires a bit of know how. Leveraging existing PBX hardware remains frequently the most practical solution for adding contact center capabilities to your company. Start now and answer a few straight-forward questions:
Tech savvy millennials expect a company to have advanced technology. Using new modes of contact instead of calling from a phone is presently the norm for the younger generation. These changes will force contact centers that want to prevail, to adapt.
Younger tech-savvy customers expect to be able to reach out for assistance on live chat, social media, text messaging, and email.
More than half of customers prefer texting customer service for help than making a call.
More than half of the existing contact centers plan to move their technology to the cloud.
Software technologies that every contact center should Use
ACD/ Advanced Call Routing
Agent Desktop
Predictive Dialer
Call Recording
Cloud based Solutions
Noise cancelling Headsets
Multi-channel communications
Integrated Customer Relationship Management (CRM) Systems
Call Centre Software
More Efficient Contact Centers would Include the Following Features
ACIS Smart Call Routing
Call Analytic Software with Reporting Tools
Performance Management Tools
Customer Survey apps
IVR (Interactive Voice Response) Capabilities
Quality Monitoring
Automated Call-Back
Multilingual Customer Support Options including both the attendant and agents.
---
Move to the Cloud
Cloud based contact Center software providers offer guidance, pricing and can answer the questions you may have. The best easy quick way to get a call center running with the most advanced apps is choosing the right hosted VoIP provider. Our top choice is RingCentral.
Automatic Call Distributor

ACD, IVRs and queues are call center apps that route specific calls to the right place. Inbound centers use this technology to improve customer relations. Outbound call centers typically use predictive dialing software. To better help you decide what's important for your business.