Ooma Business Phone service is the Number One Choice for 2023.
January 2, 2023
News & Commentary
---
If you are considering a small business cloud-based phone system in 2023, recognize Ooma Office as a leading choice.
Ooma is a popular cloud-based business phone system that provides an outstanding variety of over 50 features and pricing options to meet the needs of most small and medium-sized businesses.
One of the standout features of Ooma is its virtual assistant, which allows you to customize a professional greeting for incoming calls. This advances your business by delivering calls to the proper person or department without the need to transfer, even when no one is available to answer the phone. Likewise, its platform maintains an exceptional number of sophisticated business PBX features, including virtual fax, ring groups, HD audio, Music-on-Hold, and voicemail sent directly to your email for on-the-go listening. You can also use the Ooma mobile app to make and receive calls from your smartphone, even when you're away from the office.
Ooma Office offers three service plans to choose from, including a basic plan that incorporates a virtual receptionist, plus over 50 standard features that serve an assortment of business needs and unlimited calling for $19.95 per month. The two more advanced plans include additional features like videoconferencing, desktop app, voicemail transcriptions, text messaging, call recording, and call analytics for an additional cost.
Service works right out of the box and you don't require any technical knowledge to set it up. Once a purchaser receives their desk phones, they just connect them up and can start making and receiving calls within minutes. Customers routinely report significant savings using Ooma Office compared to other providers' monthly price per line, and it remains one of the most cost-effective business communications solutions.
Overall, Ooma Office is an outstanding choice for a variety of businesses and professional office environments looking for a reliable feature-rich cloud-based phone system. Its virtual receptionist and range of calling features make it easy to stay connected with customers and colleagues, and the flexible pricing options make it easy to obtain a plan that will fit your budget.
---
Want to learn more?
In this review we'll take a more thorough look at what Ooma Office has to offer and help you decide if it's the right fit for your business. Ooma Office Review
---
Articles that may be of interest to you:
Best Cheap Virtual Business Phone Systems that are Outstanding and get the job done.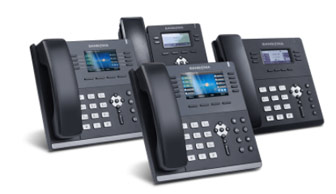 Currently there are many outstanding reconditioned On-premise PBX Systems that are available from telecom vendors. And businesses are reaping the savings.