Avaya IP-Office and Partner: Description of the LEDs and What They Tell Us
The Avaya IP Office and Partner hardware LEDs display a lot of information about the system and can be used to troubleshoot in the case of failures. These indicators can lead you to solve certain issues and should be used as a first go-to troubleshooting tool when attempting to isolate an issue.
Below we have the descriptions for the LEDs (light-emitting diode) for different hardware components and what each of the light's color indicates. The pictures below offer a look at the control unit from the start up sequence with approximate times for each sequence and how it will display after boot up, as well as the base card and daughter trunks card(s).
---
Summary of Various Avaya IP Office Hardware LED Indicator Lights
What the Different Colors Indicate
---
Avaya IP Office Hardware LED Indicator Descriptions
---
Ayaya IP Office Control Unit LEDs. The LEDs on the rear of the control unit go through the following sequence during a normal start up sequence. Note: Times are approximate.
IP Office Control Unit LEDs. These are the LED descriptions after the control unit has booted up.
IP Office Base Card LEDs
Avaya IP Office Trunk Daughter Card LEDs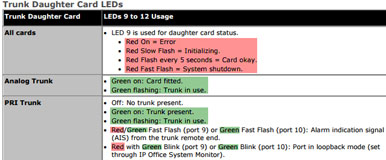 About Avaya

Avaya is a worldwide communications company known for its enterprise communications systems. The company provides Unified Communications, Contact Centers, Data solutions and related services directly and through its Channel partners. Starting as At&t, the company that would become Avaya was part of Lucent Technologies. In 2000 Lucent spun off a portion of their business that became Avaya, which later bought a large part of failed Nortel. Avaya filed for bankruptcy in 2016/2017. In 2018, after emerging from bankruptcy, they began a revised strategy of pursuing new technologies and cloud based computing. Avaya continues to distribute their licensed business phone systems through dealers. However, a burdensome debt load led to a second bankruptcy in February, 2023. The result is a private company looking to keep as many existing customers as possible. For those small companies that maintain an Avaya system and are looking to either expand, update or replace their system, now is an excellent time to do so. Incentives for dealers to retain customers are a priority for Avaya. Quote for Expanding an Avaya PBX. For those considering a completely new system, see Pbxmechanic's picks for either a cloud-based system or an on-premise system.
---
NOTE: PbxMechanic.com is a participant in the Amazon Services LLC Associates Program, an affiliate advertising program designed to provide a means for sites to earn advertising fees by advertising and linking to products on Amazon.com. Amazon and the Amazon logo are trademarks of Amazon.com, Inc. or its affiliates.