Grandstream Gets Product of the Year Award- 2017
Published March, 2017

Grandstream's GXP1700 Mid-Range IP Phone series has been awarded a 2017 INTERNET TELEPHONY Product of the Year Award by TMC. Recognizing the best in excellent innovation in high quality IP communication's products, that were brought to market in the past year, the Product of the Year Award is an honored badge that distinguishes the very best in an IP phone class. Either of Grandstream's IP phones; the GXP1760 and GXP1780 are a great addition to any user's desktop thanks to their sleek, high-end design coupled with mid-range tools that help efficiency and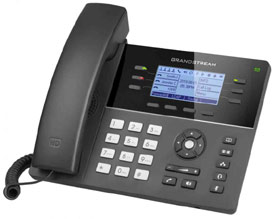 productivity. Grandstream keeps producing some of the best affordable SIP solutions on the IP telephony market today and are chosen by businesses worldwide.
Commentary:
In January 2017 Avaya filed for bankruptcy, another major PBX communication's manufacturer that could not keep their business above water. Sadly, there have been many of these large PBX manufacturer's failures, suggesting an increasing changing environment. With reorganization currently in the works, and although we do not know what the future holds for Avaya, there should be plenty of caution when one chooses to make a large new purchase from a company that has a foggy future.
Back in earlier 2016 Canada's Mitel Networks Corp had announced it will buy Polycom, one of the premier IP phone manufacturers, however this attempt did not come to fruition. After that failed earlier attempt by Mitel to purchase Polycom, it was announced in September 2016 that Polycom completed an acquisition by a private capitol company, Siris Capital Group, LLC.. Polycom has been a go-to IP phone endpoint, with both great quality and great clarity, for open source Asterisk servers for many years now. With Asterisk's ability to marry to almost any open source IP phone and Polycom's continued commitment to the Asterisk community, Polycom has become a foundation as a major player in the telecom industry and will continue to develop video, voice and communication technology and are well known for their excellent line of SIP based phones under its own umbrella, which might be a good thing for the telecom and IT industry.
NOTE:

Changes occur in the telecom industry, as can be seen by the recent Avaya bankruptcy. Large manufacturers go under, reorganize, then try to move on.
Others buy great competitors and once integrated will change their direction to match their own business philosophy. And why shouldn't they, it's the reason that they spent all that money; with the hope that their new acquisition will increase their reach and add to their product line and profit.
With that in mind, you may want to consider looking for a top manufacturer, (one that is committed for the long run), that has been making a highly rated, reasonably priced ip-pbx Asterisk based phone system, with phones to match that are easy to configure, easy to install and are made by the same company.
NOTE: PbxMechanic.com is a participant in the Amazon Services LLC Associates Program, an affiliate advertising program designed to provide a means for sites to earn advertising fees by advertising and linking to products on Amazon.com. Amazon and the Amazon logo are trademarks of Amazon.com, Inc, or its affiliates.